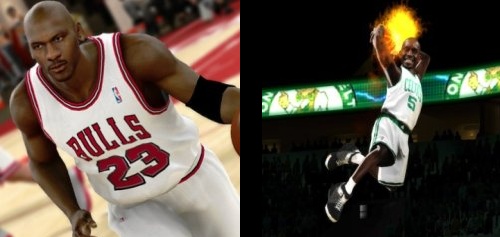 The NBA is pretty much the only sport these days that features a legit head-to-head competition between companies. That is being evidenced even more this year with both 2K Sports and EA Sports making big moves for consumer interest and market share. 2K Sports signed Michael Jordan as the cover athlete and NBA Elite 11 includes a free downloadable copy of NBA Jam. Which one will have a stronger influence on a potential purchase decision?
Michael Jordan: The greatest NBA player of all time is on the cover of NBA 2K11 and featured in "The Jordan Challenge" which will bring the recreation of several of his career highlights as a game mode. Jordan is still one of the most recognizable faces in the world and remains involved in the league due to his ownership stake in the Charlotte Bobcats.
NBA Jam: The iconic series carries a significant nostalgia factor and the newest NBA Jam, for the first time developed by EA Sports, is being included for free with new copies of NBA Elite 11. It includes HD graphics, updated rosters, campaign mode, and online play.