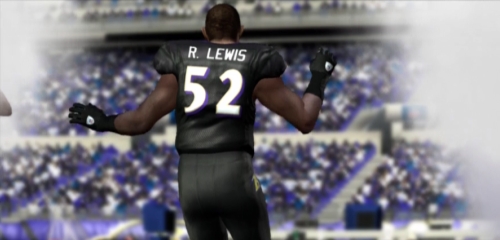 Last night I got together with Fred and CoreySA to run through a couple games of Online Team Play in Madden 11. The memorable game of the evening included a comeback from down 28-6 late in the 3rd quarter. Though we felt like we were playing decently on both sides of the ball the opposition kept converting third downs. It took us a while but eventually we decided to dial up the pressure and what resulted was a 36-11 swing which included three INT-TDs (all by defensive lineman) and a 42-39 victory.
In addition to the initial OTP impressions in the online play write-up here are a few more observations on the mode:
It is a bit difficult to get a full game going. It seems that people trickle into the room slowly. By the time a sixth has come in someone has left and the cycle continues. Don't know if this is because few people are playing the mode or if something is wrong with matchmaking/joining.
I just don't see many people achieving the boosts naturally they'll probably end up needing to be paid for if desired. Still don't think I've gone up against anyone who's been boosted, though our opponents probably think we did something crazy to turn that game around in such dramatic fashion.
As mentioned previously the RB is covered up by the coordinator text box which can make the assignment difficult to discern. The position is also hampered by being initially controlled by the CPU on routes. In many cases we found our desire to stay in and make a block was not possible due to this. It would start the player moving and took the control completely out of the user's hands and a critical block would be missed.
It's a shame there are no lifetime records or stats. Despite the feeling of accomplishment in this game especially there was still essentially nothing on the line. So the potential to have people disrupt games or just quit could be an issue come across.