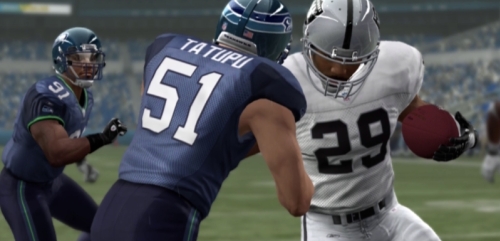 I've seen quite a bit of chatter today regarding some thoughts that initial indications are the sales for Madden 11 have been disappointing. At this point there is absolutely no concrete data to suggest sales are down. However this CNBC article seems to have stirred up discussion by making some purely unsubstantiated assumptions. While we won't know the official sales numbers for Madden's first month until mid-September there are some things to examine now.
As cited in the article, and something I noticed immediately, multiple retailers (Gamestop, Amazon, Walmart) dropped the price of Madden 11 in the days that followed release. Those prices have since bounced back up, though deals can still be found through Amazon and Walmart.
UFC Undisputed 2010 was dropped at some outlets to $39.99 within a week after it released. That foretold what would be a huge sales slide for the series so in that case it was a sign that the game was in trouble. However I passed over writing an article on the subject because things just don't match up the same as it relates to Madden.
Madden 11 was never truly $60 to begin with. Preorders included Amazon offering $20 off a future game purchase, Walmart providing a $20 gift card, and Gamestop giving 20,000 coins ($6.67 value). So seeing Madden at $50 or thereabouts now really shouldn't be setting off any alarms. If gamers couldn't be tempted to preorder with those deals, why would they be expected to pick up the game for the full $60 now?
NCAA Football 11 had sales rise by 8% in its first month, so there is no reason to think that Madden couldn't sustain numbers from last year or even see a small bump as NCAA did. My gut though is that sales will be slightly down. I don't think the casual focus resonated successfully to bring in new gamers and at the same time may have alienated frustrated long-time fans of the series, reviews were flat with last year, word of mouth doesn't seem as positive, and early issues particularly with online play may have been enough to keep some away.
Keep in mind though that even if sales turn out to be slightly down EA Sports could very well still make more money on Madden this year due to the prevalence of downloadable content, Madden Ultimate Team mode, the "Online Pass" being sold to those who pick up used copies, and the advertising that has been heavily integrated into the game.