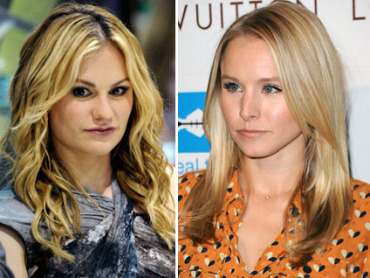 Add two more people the cast of Scream 4. Last month, Adam Brody was the latest to join and today we find out two well known actresses have signed on. True Blood's , Anna Paquin and Forgetting Sarah Marshall's, Kristen Bell have both joined the cast of Wes Craven's latest 'Scream' film. EOnline.com has the story:
News first broke on USA Today about the casting, which comes after director Wes Craven put out a request twitter asking for cameo suggestions for his latest film. The Scream series has a long history of offing famous stars, most notably in the original film where audiences were left shocked following Drew Barrymore's unexpected death in the opening scenes.
The pair join a cast that includes returning stars Neve Campbell, Courteney Cox Arquette and David Arquette and fresh meat Emma Roberts, Hayden Panettiere, Marielle Jaffe, Rory Culkin, Nico Tortorella, Erik Knudsen, Anthony Anderson and Adam Brody. We still don't know what kind of roles Paquin or Bell would be playing. Scream 4 hits theaters April 15, 2011.