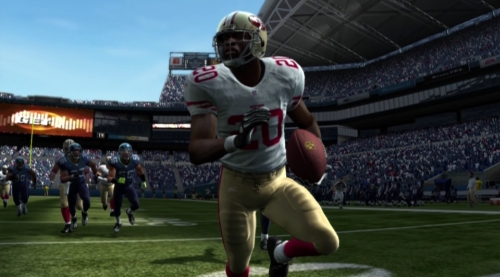 It appears that the second roster update for Madden 11 will be coming sooner than anticipated. According to Donny Moore the next one is being targeted to arrive this weekend. This update would likely attempt to position rosters to be in better shape before NFL teams set their final 53 after the last preseason game. A roster update is still expected in the days leading up to the start of the regular season that incorporate the final rosters.
So what could be expected out of the upcoming roster update? Probably not so much in the way of ratings changes but instead expect it to be primarily transaction based. Injuries such as those to Elvis Dumervil and Sidney Rice should be reflected. Just a few of the bigger changes as of late include Greg Camarillo and Javon Walker joining the Vikings, Brian Westbrook to the 49ers, Seahawks getting Kentwan Balmer, Lions getting Lawrence Jackson, Torry Holt IR/release from the Patriots, and Tra Thomas retiring from the Chargers.
The update could deal with making Vincent Jackson, Marcus McNeill, and Darrelle Revis inactive given their holdouts and suspensions in the case of the first two. Matt Leinart losing his starting spot to Derek Anderson could even make its way in.