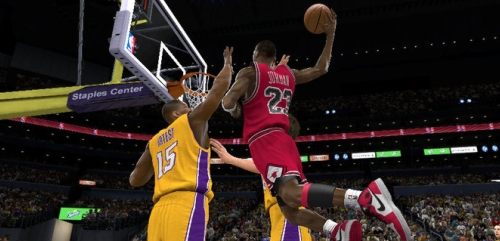 The complete features list for NBA 2K11 has finally made its way out. Of course the Michael Jordan related modes, the Jordan Challenge and Creating a Legend are prominent but the list also includes the new IsoMotion, Dynamic Shot Control, and the still to be detailed Playstation Move functionality. None of this is necessarily new however as it lays it all out there it does seem unfortunate that there is nothing to do with online play mentioned. Continue on to check out the full features list and leave your thoughts in the comments!
Jordan Challenge
Relive 10 different legendary games from Michael Jordan's career and replicate in NBA 2K11 what MJ did on the court. Successfully reenact all 10 game scenarios to unlock the MJ: Creating a Legend mode.
Historic Chicago Bulls Teams
Ever wondered how the Lakers of today might fare against the Michael Jordan led Chicago Bulls? Get the chance to play as some of the greatest teams in NBA history as the 1985-86, 1989-90, 1990-91, 1991-92, 1994-95, 1995-96, 1996-97, and 1997-98 Chicago Bulls squads are put at your fingertips in Quick Game mode.
My Jordans
While playing through NBA 2K11, users will be awarded pairs of Air Jordans for hitting game milestones and accomplishments. Collect the entire line of Air Jordan shoes that MJ wore throughout his career and gain specific attribute bonuses when you have them equipped.
MJ: Creating a Legend
Complete the Jordan Challenge to unlock this special mode where you get to take control of a newly drafted rookie Michael Jordan and craft your own version of Michael's career in the NBA.
ALL-NEW IsoMotion™ Dribbling Controls
Delivering the most realistic feeling and reacting dribbling system to date with seamless transitions between ankle breaking moves. Coupled with an all-new gesturing system allowing users to intuitively translate thought to motion and dominate like Michael Jordan from the perimeter to the paint.
ALL-NEW Dynamic Shot Control
Take your offensive game to the next level with an unprecedented amount of control via the enhanced Shot Stick™. Dozens of new shot types, from layups to jumpshots to dunks and everything in between, are completely under the user's control with the flick of a stick. The new Shot Branching system also allows you to adjust your shots on the fly in mid-air just like MJ and ensures that you're never stuck in long drawn out animations.
BEST NBA 2K Soundtrack EVER
The GREATEST soundtrack to date featuring an eclectic mix of upcoming breakout bands and highly acclaimed hip-hop artists such as Big Boi, Drake, and even an original, exclusive track from 12 time Grammy nominee, Snoop Dogg.
Full PlayStation®Move Functionality
Look for more details coming soon, but know that NBA 2K11 will be taking full advantage of this exciting new hardware feature.
Plus, look for more news soon about great enhancements coming to other core features like My Player and Association modes as well as NBA Today.