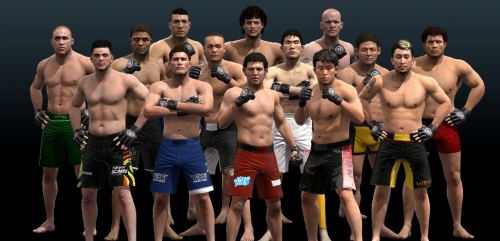 The final two weight classes in EA Sports MMA were revealed today with full fighter listings for both lightweight and welterweight. They are headlined by current Strikeforce WW Champion Nick Diaz and LW Champion Gilbert Melendez. You can check out the previous weight classes: Middleweight, Light Heavyweight, Heavyweight.
Lightweight: Lyle Beerbohm, Josh Thomson, Gilbert Melendez, Mizuto Hirota, Tatsuya Kawajiri, Gesias Cavalcante, Vitor Ribeiro, Eddie Alvarez, Shinya Aoki, Satoru Kitaoka, Hayato Sakurai, Billy Evangelista, Kron Gracie, Joachim Hansen.
Welterweight: Joachim Hansen, Pat Miletich, Shinya Aoki, Robbie Lawler, Nick Diaz, Jake Shields, Matt Lindland, Kazuo Misaki, Joe Riggs, Tatsuya Kawajiri, Jay Hieron, Marius Zaromskis, Lyman Good, Frank Trigg, Nick Thompson, Hayato Sakurai, Tyron Woodley.