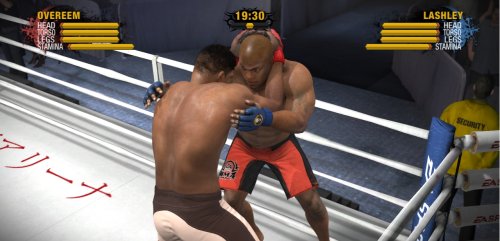 The demo for EA Sports MMA is scheduled to go out for the 360 and PS3 on Tuesday September 28th. Four fighters will be included to use in the demo. From the heavyweights Alistair Overeem and Bobby Lashley and from the middleweights Jake Shields and Jason "Mayhem" Miller.
For the "Fight Now" experience, step into the STRIKEFORCE cage at the HP Pavilion and test your mettle across four different skill levels. Or learn the ropes via the "MMA 101″ interactive tutorial that pits rivals Shields vs. Miller in a ring at the Horizon Center of Japan. EA SPORTS MMA is the only game that allows you to travel the globe and experience different fighting environments, rule sets, and training locations.
Also, "sharing" the demo will unlock classic Randy Couture to use in the full version of the game. EA has used this "sharing" tactic with demos for NCAA Football 11 and Madden 11 and seems worthwhile to take advantage of here as well.