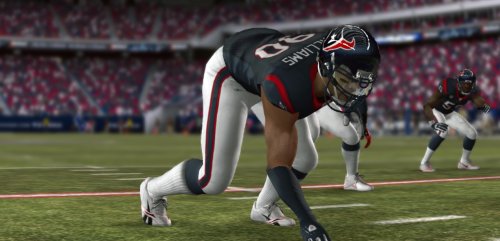 The first highly anticipated patch for Madden 11 arrived today for the PS3 and 360. The patch brings back in the classic pre-play controls that were removed and replaced with the "Strategy Pad". It also adds in "Madden Moments Live" which will present new moments throughout the year for purchase. Those represent the most significant developments from this patch while one intended to address issues and improve gameplay is being targeted to release by the end of the month. Continue on for the full details on this patch and leave your thoughts in the comments!
(Update) Though the 360 patch is out it seems that very little with it is currently working. The Madden Moments Live can't be downloaded, the Breast Cancer Awareness addition is no where to be found, and there are rumblings that the pre-play controls don't function properly. Will update further when more is known. (Follow-up) The MML and BCA appear to finally be available with the 360 patch.
Pre-Play Functionality
• You asked for it, you got it! Pre-play functionality makes its return to Madden. A new menu option called, "Strategy Pad Shortcuts" is available. When turned on, you will see the hot routes, coverage audible, and shifts menus using the same buttons as Madden NFL 10.
Ultimate Team Improvements
• You can now view your opponent's lineup in Ultimate Team
• New item tiers added
Breast Cancer Awareness Month
• Breast cancer awareness mode is now available for play. You can access it by scrolling right from "Play Now". In addition, franchise games that take place in October (in Franchise mode, not next month) will be given this theme. The Madden team is proud to support the NFL in the fight against breast cancer.
Miscellaneous
• Scouting has been added to Online Franchise games
• Fixed overtime rules for preseason and regular season in Franchise mode
• Online Franchise: Fixed a feedback issue when commissioners attempted to add friends via Online ID
• Tie breakers for divisional winners now work correctly in Online Franchise
• Fixed issues resulting from challenging a play after using Supersim
• Fixed a feedback issue where the game wasn't informing players when their selected storage device had insufficient space, which could cause data loss
• Fixed a feedback issue related to the tracking of tie breakers for division clinchers
• Fixed a menu pop up problem when an opponent resumes, calls timeout, or uses a challenge while a player has the Friendly Quit pop up on screen
• Multiple game stability fixes implemented
• Miscellaneous gameplay balancing (with more coming in title update #3)
Presentation
• Multiple lighting tweaks for improved stadium lighting
• Numerous improvements to player models and uniforms – including Titans AFL, Jets throwbacks, Vikings alternates, Jaguars uniforms
• Many camera shot improvements improved & tweaked for cut scenes
• Fixed a warping animation on the placekicker during FG and extra point attempts
Server Side
• Added penalization to quitters and awards to users to help address quitting in Ultimate Team head to head games
• Added various Game Reporting improvements for unranked games and Online Franchise. Also included various game stat fixes
• Fixed an issue where too many boosts were being deducted for each OTP game
• Fixed an issue where posting a card for auction would incorrectly show the length of the contract
• Fixed an issue with Ultimate Team injuries so that injured players will correctly come out of depth charts and lineups at the end of a game, and players will not be able to enter new games without addressing injuries and readjusting depth charts
• Fixed an issue where Ultimate Team coin rewards were incorrect for quitters