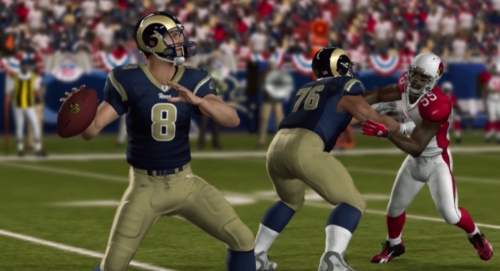 The first set of Madden Moments Live are now out on the 360 and PS3. There are four that come from week one, with the Lions-Bears, Packers-Eagles, and Cardinals-Rams as ones that stood out for this treatment. The NFL Kickoff game with the Vikings-Saints is the fourth which didn't really seem to warrant one outside of it being a compelling NFC Championship rematch.
Madden Moments Live can be purchased on an individual basis (2000 coins/67 cents), as a full weekly set (5000 coins/$1.67), or as full season pass for all that will be released this year (60000 coins/$20). Details on the four new moments for week one follow.
Vikings vs. Saints: Kickoff 2010 – Brett Favre's back, but his favorite target, Sidney Rice, is out for the season. Favre found an early rapport with Visanthe Shiancoe, but the Saints were able to make some defensive adjustments and shut that connection down in the second half. Play as Favre and lead the Vikings to the comeback win. Find his new favorite target (Shiancoe) in the passing game for bonus points.
Lions vs. Bears: Football Move – In one of the most controversial and exciting games in recent memory, Calvin Johnson's game winning catch was overruled and Bears went on to win, thanks in large part to Matt Forte's big game. Take over the Lions at the end of the game and make a catch that counts. Bonus points for hitting Calvin in the end zone.
Packers vs. Eagles: Throwback – The Eagles started a new era on Sunday while wearing their throwback uniforms. With Kevin Kolb knocked out of the game, Michael Vick looked like a throwback of the old Mike Vick, and came oh-so-close to leading the Eagles to a huge upset. Mr. Electric is back, and you can scramble the Eagles to victory and earn bonus points for getting it done with #7.
Cardinals vs. Rams: Sam the Man – It wasn't a picture perfect debut for the #1 overall pick in the Draft, but that's what Madden Moments Live are for. Take over Rams and show the St. Louis fans that Sam is the man that will lead their franchise back to glory. Bonus points for tossing TD passes with Bradford.