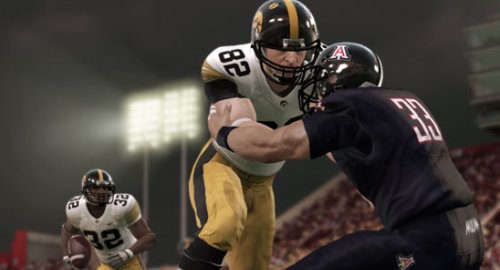 EA Sports has released a fourth tuning pack for NCAA Football 11 on the 360 and PS3. This set attempts to adjust the in-season progression that was added in the last tuner which wasn't having the intended impact. Some dynasties were not seeing the correct amount of progression taking place and these changes are intended to correct that.
During the season some of your players on your team will get small gains to some of their ratings
Will show in Edit Roster Screen in the form of +1 (or another number) next to a player rating
Will NOT affect every player, only some will Progress
On average only a few players per team will see a +1 in Overall (OVR) gain over the course of a full season
Will work when Siming, you do not need to play every game for it to occur
Will change other attributes per position other than OVR, for example Awareness (AWR) is a rating that normally sees a jump
The Live Tuning, first introduced in NHL 10, was added this year for NCAA Football 11 as a way to adjust the way the game plays and other behind the scenes workings without having to go through the lengthy and restrictive patch process.