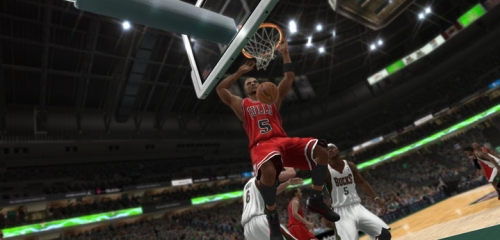 Though EA Sports has yet to release a detailed track list for NBA Elite 11 they have now announced the details behind the soundtrack for the game having gone away from the norm of featuring a number of artists. We've known for quite some time that 9th Wonder was composing the soundtrack but he, along with J. Cole, delivered every song that will be featured in the game.
Grammy Award Winning Producer and DJ, 9th Wonder, and Roc Nation star MC, J. Cole, have created the soundtrack for NBA Elite 11. The game will include a full soundtrack designed by 9th Wonder and title track "The Plan" by J. Cole. This is the first EA Sports NBA title to have a custom soundtrack that has been created solely by two artists.

"Being the first artist to throw down the full soundtrack for NBA Elite 11was pretty amazing," says 9th Wonder. "I was able to mesh together the two things that I love in life, basketball and music."

J. Cole, the first MC to be signed onto JAY-Z's Roc Nation label, is on a path to becoming the next big name in the Hip Hop industry. Embarking on his passion for music at age 12, J. Cole draws inspiration from some of the biggest names in Hip Hop to create his own signature style. Currently recording and producing his first album under the Roc Nation label, the critically acclaimed Cole has already appeared on JAY-Z's "The Blueprint 3" on the song fittingly titled "A Star is Born".

"As a big sports video game fan, it's an honor to be a part of EA SPORTS NBA ELITE 2011. I thank EA for trusting in me to create the game's main song. I truly enjoyed the experience."
For those familiar with 9th Wonder and J. Cole what do you think of a soundtrack having been completed by them? What do you think of this type of a soundtrack as opposed to the more traditional ones including a bunch of different artists? Leave any thoughts in the comments!