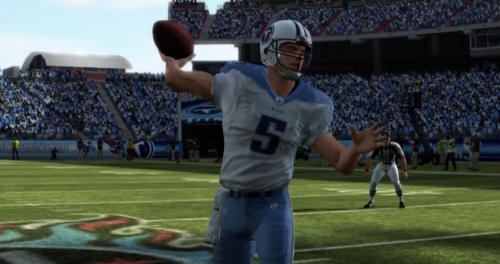 EA Sports has released the week two set of "moments" to purchase in Madden Moments Live. There are three this week featuring last minute drives led by Kerry Collins and Joe Flacco and changing the outcome of the Patriots-Jets matchup. Interestingly the one game from the weekend which seemed like a lock to make the cut, the Texans-Redskins affair having  involved a 17 point comeback by Houston and an eventual win in overtime, was not selected.
Titans vs. Steelers: Enter Collins – Tennessee and Pittsburgh battled it out in a very close game Sunday, with the Steelers pulling out the win after Tennessee drove to the Pittsburgh 41 but failed to score as time ran out. Can you drive the Titans down the field with less than a minute to go, down by eight, with no timeouts or Vince Young (he was benched earlier in the game) to tie and then win the game?

Ravens vs. Bengals: Two-Minute Drill – The Bengals won their eighth consecutive divisional game with a tough win over the Baltimore Ravens. Despite a poor performance by Joe Flacco, he was still given a final chance to drive down the field and win the game with 2:48 on the clock. Execute the two minute drill and end the Bengals streak.

Patriots vs. Jets: No Slouch Here – Start proving you aren't a "slouch" by taking control of the Patriots and converting a key third down. You know the Jets will be bringing the heat for the rest of this game, so play like a dynasty should and show them you know how to pick apart an overly aggressive defense. Hang on to win this tough divisional battle. No bonus points for insane one-handed TD grabs.
Madden Moments Live can be purchased from the Madden 11 menu on an individual basis (2000 coins/67 cents), as a full weekly set (5000 coins/$1.67), or as full season pass for all released throughout the year (60000 coins/$20).