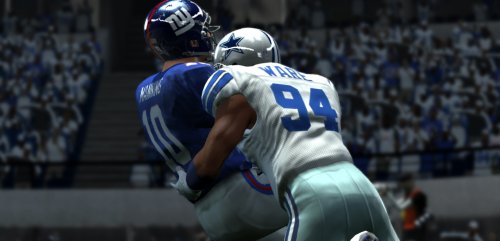 With the latest patch for Madden 11 out on the PS3 and coming very soon for the 360 EA Sports has released the full patch details. Highlights include work being done with the intention of improving play action, blocking on kick returns, and GameFlow play-calling logic. The ability to play friends in ranked games has been added back in, the QB spy glitch has been fixed, and the Colts and Patriots have received new alternate uniforms.
Another thing noted by many leaving impressions is that the kick meter seems to have been slowed down significantly. Presumably this is to account for the issues that were being had with responsiveness online. Continue on for the full list of changes being implemented through the third patch for Madden 11 and leave your thoughts on it in the comments!
(Update) The slowed down kick meter was not supposed to happen in this patch and it is being corrected overnight with a server-side update. Improvement in the meter responsiveness online should be noticeable (hopefully) with the meter moving at the correct speed.
Tuned play action blocking to be more effective.
Tuned kick return blocking to be more effective.
Tuned injuries to occur in more realistic percentages.
Tuned GameFlow play calling logic, including lesser chances of same / similar plays being called concurrently.
Tuned general defensive effectiveness, including locomotion improvements for defenders and miscellaneous pass coverage improvements
Fixed QB spy 'nano-blitz' exploit.
Fixed an issue in online team play that allowed defensive captains to force offensive captains in to a no-huddle situation
Fixed crash bug that was introduced that could occur for some PS3 gamers that were using "My Skill" setting.
Fixed bug that didn't allow gamers to invite friends to ranked games. Now this is 100% allowed.
Added new alternate uniforms for Colts and Patriots.
Corrected a feedback issue related to stat tracking when a player quit during the first half of an online game
Fixed an issue in Madden Moments LIVE related to stat tracking for those who used the "Play Again" option after completing the game.
Added multiple stability fixes across a variety of game modes.