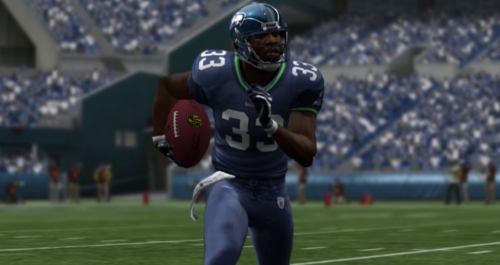 EA Sports has released the NFL week three set of "moments" to purchase in Madden Moments Live. They feature the Falcons pulling off the OT win at New Orleans, Leon Washington helping the Seahawks to an upset win over the Chargers, and the Dolphins coming up short against the Jets. These "moments" provide the opportunity to change each game's outcome.
Falcons at Saints: Talk of the South – Two teams from the NFC South went into this weekend fighting for control of the division. After Sunday's action, Atlanta came out on top. The Falcons made a massive statement with an overtime win over the defending champs in the Big Easy. Since the extra period put a hex on the Saints, take over as Brees and Co, and make sure overtime never occurs…Madden Moments LIVE style!

Chargers at Seahawks: Bullies – This Moment puts you in control of the team that has dominated the AFC West for some time, the San Diego Chargers. On the road, undermanned on defense, and down on the scoreboard with little time to play, you will have to succeed where the Chargers failed on Sunday. Seattle has plenty of motivation to win this one and they plan to do so on the strength of Leon Washington's kick return heroics. Can you take the lead and bottle up this dynamic playmaker?

Jets at Dolphins: Beasts of the East – The stars came out to play for this Sunday night nail-biter. Jets fans almost re-lived a nightmare from 2009, as Chad Henne drove the Dolphins down the field in a final attempt to extend the game. Too bad the Jets' Defense woke up and made a play…ending the game on an interception. Play as Henne and the 'Fins on that final drive, and see if you can tip toe your way past the Jets into the end zone.
On a side note EA seems to think the Seahawks still reside in the AFC West. They referred to these three games as being "divisional battles" and the in-game description states "after years of being dominated by the Chargers in the AFC West". That would even be inaccurate in its historic portrayal as Seattle holds a 26-23 lifetime record over San Diego and had won five out of the last six meetings between the two teams. They hadn't even played since 2006.
Madden Moments Live can be purchased from the Madden 11 menu on an individual basis (2000 coins/67 cents), as a full weekly set (5000 coins/$1.67), or as full season pass for all released throughout the year (60000 coins/$20).