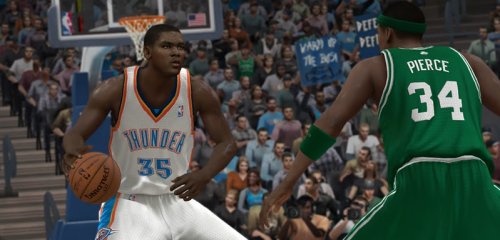 One would assume that the cover athlete of a major sports game would be informed of a crucial development such as said game's delay. By agreeing to be on the cover and take on the role of spokesperson an athlete's image is ultimately being tested and put on the line. In the case of Kevin Durant, featured on the cover of NBA Elite 11, he apparently found out about the game's delay through Twitter and not from EA Sports.
Though he still benefits financially from the deal, being on the cover of a sports game has never been a huge financial score. Compared to what these athletes make it is practically nothing. Taking the cover is more about the honor of having reached a point in a career where they would be considered for it and presented the opportunity. Durant already had a relationship with EA Sports, having been on the cover of March Madness 08. Something of this nature, especially the lack of communication, could change that relationship going forward.
At this point it is uncertain that NBA Elite 11 will see the light of day. If it does Durant would likely remain on the cover, and the contract probably would keep him there. In my thoughts on the delay I discussed the likelihood that there will be no Elite 11 and instead EA will focus on an NBA product to compete next year heading into the 2011-12 season. In that case it would probably be a new cover athlete and Durant would be off the hook.