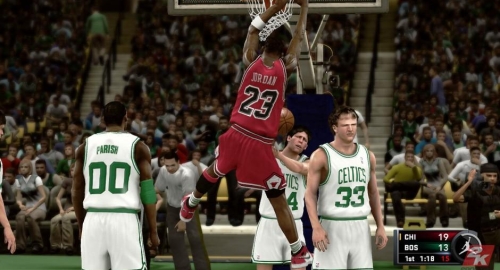 Continuing with the series of Xbox 360 hard drive installation evaluations I've gone through and compared several areas of NBA2K11 based on loading times from the disk vs the hard drive. With the NBA 2K series the initial booting sequence has typically been lengthy due to how many different things load prior to reaching the main menu but within the menus has generally been quick. That is definitely the case again this year. NBA 2K11 is the biggest install of a sports game yet but unfortunately doesn't show much improvement in the loading times.
Install time- 11:22
Install size- 6.6 GB
Loading Times
Boot to main menu- 66 seconds disc vs 59 seconds HDD (7 seconds)
Load into quick game- 37 seconds disc vs 34 seconds HDD (3 seconds)
Leave quick game to menu- 7 seconds disc vs 5 seconds HDD (2 seconds)
Load into saved Association- 10 seconds disc vs 6 seconds HDD (4 seconds)
Load into saved My Player- 9 seconds disc vs 7 seconds HDD (2 seconds)
Load into a Jordan Challenge – 28 seconds disc vs 26 seconds HDD (2 second)
So the loading times don't see a drastic improvement with the install, however as always doing so is recommended for the reduced noise and wear and tear put on the system.