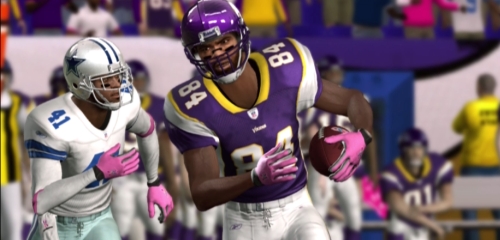 The Vikings have officially traded for WR Randy Moss bringing him back to where his career began in 1998. In exchange the Patriots received a third round draft pick. Given the magnitude of this move it will be worked into this week's Madden 11 roster update.
New England expected to lose Moss in the offseason so getting what they could for him now and rather than waiting for a compensatory pick (would have been a third rounder in 2012) was more appealing than keeping a malcontent on the team the rest of the year. Their offense clearly takes a huge hit due to the move though. Defenses can shift their focus more to covering Wes Welker or getting at Tom Brady. Brandon Tate will see an increase role in the offense with Moss' departure. He has only 9 catches for the season but still opened things up for everyone else.
Placating Brett Favre and making a run this year to win the Super Bowl drove this move. Moss is 33 and won't be viewed as the long term #1 receiver for the team. His contract has not been extended so he will still be a free agent after the season. Sidney Rice instead is that #1, however he has been on the physically unable to perform list this season. His absence has really been felt and should he be able to return this year the passing game would appear to be dynamic. Moss, Rice, and Percy Harvin would make for a scary trio.
Moss has a 97 overall rating in Madden 11 which includes a recent bump up to a 100 rating in the spectacular catch category. With those other weapons at receiver and Adrian Peterson in the backfield they could be the most difficult team to defend in the game.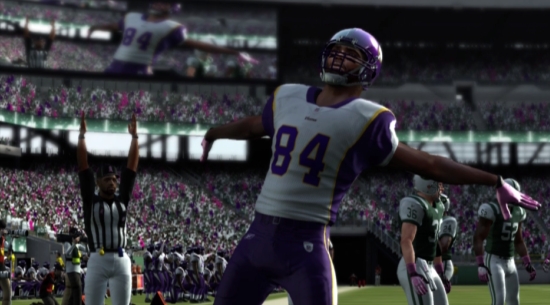 In another trade of significance the Bills sent Marshawn Lynch to the Seahawks for a 4th round pick and a conditional pick in 2012. Multiple teams reportedly had been reportedly interested in him including the Packers and Eagles, however Seahawks had been trying to get him since the offseason and Bills finally gave in.
Lynch is currently rated an 81 in Madden 11. He becomes the workhorse back that the team has been lacking since Shaun Alexander. Lynch, just 24, ran for over 1000 yards in his first two seasons and also made the Pro Bowl. After getting injured early last season he was supplanted by Fred Jackson and was never given the lead role in the offense back. He has only 37 carries this season averaging 4.4 yards per carry. His arrival moves former Cal teammate and good friend Justin Forsett to more of a third down back role.