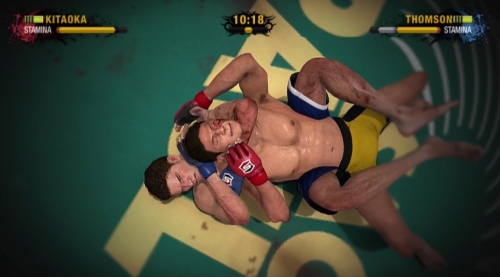 The first Friday Night Fights with EA Sports MMA turned out to be a big success. The Fight Cards feature is so much fun when a group of people get together as was the case last night. We ended up going for two and a half hours (I believe five total cards) and it was really enjoyable even in just watching the other fights.
It turned out that there was overflow and not everyone could be involved on each card. To my surprise the Fight Card rooms allow for 10 people to be in but limit the card to four fights. That meant two people were in but only as spectators. I apologize to anyone who found themselves in that spot.
There was a good mix of results and outcomes. Some of the fights ended quick (appeared to just be inexperienced fighters) but there were also some epic battles that went multiple rounds or over 10 minutes. My fight with @darthobvious went a full 20 minutes, the only fight to go to the cards, where I won a unanimous decision.
Continue on for full videos of the first three cards as well as screenshots of the final results. Thanks goes to everyone who participated for making it a fun night and be sure to drop in next Friday night if you'd like to take part!