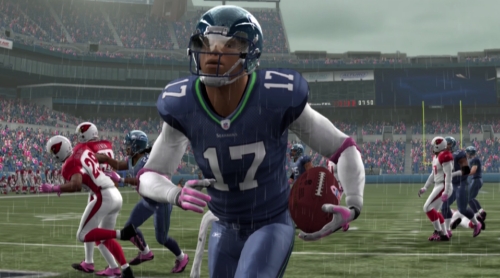 Week seven of the NFL season brought some sloppy play, some big performances, and some significant injuries. The roster update this week for Madden 11 feels as though it will present a big shift for many teams and individuals.
Seahawks WR Mike Williams has 21 receptions over the last two games and has stepped up as a go-to receiver. Other WRs coming off big games include the Falcons' Roddy White, the Titans' Kenny Britt, and the Giants' Hakeem Nicks. Redskins RB Ryan Torain has two straight 100 yard games and Raiders RB Darren McFadden destroyed the Broncos. Jay Cutler and the Bears are in a tailspin wtih Redskins CB DeAngelo Hall the beneficiary picking him off four times.
Injuries struck a number of important players. Colts TE Dallas Clark, Ravens OL Jared Gaither, and Steelers DE Aaron Smith are all out for the season. The notable injury from the Monday night game occurred to Tony Romo who is out for an extended period of time (possibly the whole season). Brett Favre is hobbled by an injured ankle and may miss time as well but regardless his rating should be taking a hit after another poor game.
As always leave your thoughts in the comments on what players or teams deserve ratings bumps or hits based on performance in and up through week seven of the NFL season!