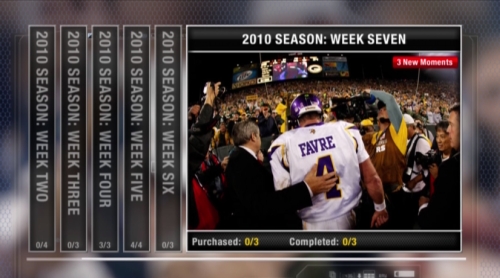 The Madden Moments Live coming out of week seven of the NFL season features taking the Buccaneers to pull off the comeback victory, leading the Steelers to the win on the road, and getting the Panthers their first win of the year. Surprisingly the Vikings-Packers game is not one and that is likely due to having combined to be included in five MML this season and the matchup at Lambeau being one of the "moments" from last season.
Rams vs. Bucs: Ram Overboard – Bucs QB Josh Freeman has seven career wins as a starter. Five of those wins have come on 4th quarter comeback drives. Take control of the Bucs and their sophomore quarterback at the two-minute warning, and notch comeback #5 in front of the home crowd.

Steelers vs. Dolphins: Scrum – Big Ben hit the road for the first time this season and left Miami with a controversial win. On the Steelers last drive of the game, Roethlisberger fumbled in Miami's end zone, but the officials couldn't determine who came up with the ball. Pittsburgh kept it and kicked the game winning FG. Control the Steelers at the start of that drive and win with no controversy.

49ers vs. Panthers: Winless No More – With the game tied 20-20 in the 4th quarter, the 49ers looked to backup David Carr to lead the team down the field to victory. Instead he threw an interception to Richard Marshall at the Carolina 43 as a helpless Coach Singletary and injured starter Alex Smith looked on. Take control of the Panthers and drive down the field for the Panthers first win of the season.
Madden Moments Live can be purchased from the Madden 11 menu on an individual basis (2000 coins/67 cents), as a full weekly set (5000 coins/$1.67), or as full season pass for all released throughout the year (60000 coins/$20).