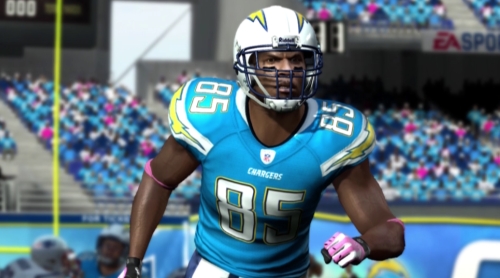 The patch that just arrived for Madden 11 advertised that it would be delivering a handful of new uniforms and variations on current ones. However many were noting that they did not have them within the options to choose from and I confirmed the same on my end. It also seemed to be limited to the 360 side with reports that PS3 users did receive the jerseys immediately.
It turns out for the 360 that after receiving the patch the "Ultimate Team Rivals Pack" must be downloaded to get access to the jerseys. In order to do this just select "Ultimate Team" from the main menu. A message will come up stating that the downloadable content pack is required to use the mode. It is a free download so nothing to worry about in that regard it just becomes a process to complete rather than getting the jerseys automatically as many expected.
After downloading that DLC the game must be restarted. The jerseys will then appear when scrolling through the options. Included in the patch are the Chargers powder blue alternates, Saints home jersey with a Super Bowl Champions patch, current Redskins home and away combos and fixed socks, and three different Vikings jerseys featuring the 50th anniversary patch.