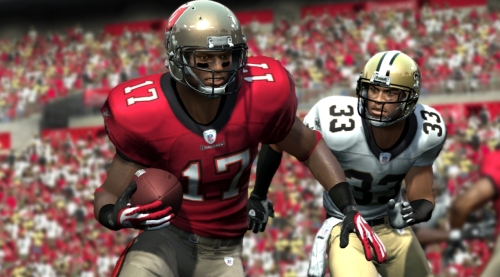 The Madden Moments Live coming out of week eight of the NFL season features two of the biggest surprise teams this year. One has the Chiefs pull off the OT victory against the Bills and the other is the Bucs as they knock off the Cardinals on the road. The third game features the last two Super Bowl winners with the Saints beating the Steelers.
Bills vs. Chiefs: Redemption! – On a windy afternoon in Kansas City, both kickers battled the wind and came oh-so-close to kicking the game winner. The difference, Ryan Succop got a chance for redemption and nailed it as time expired. Play as the Chiefs and hit that game winner on the first try.

Steelers vs. Saints: Happy Halloween – The last two Super Bowl Champions faced off in a crucial mid-season game. For the Saints, a loss meant a 4-4 record in a tough NFC South. For the Steelers, a win meant staying a step ahead of the idle Ravens. Just when it looked like the Steelers were going to mount a comeback, a costly fumble turned the tide. Play as the Saints after the turnover and keep pace in the NFC South.

Bucs vs. Cardinals: A Growing Legend – Coach Raheem Morris called his team "the best in the NFC". That's a lot to live up to for one of the youngest teams in the NFL, but the Bucs backed up the talk and came away with another thrilling victory. Take control of Tampa Bay, down by four and notch your fifth win of the season.
Madden Moments Live can be purchased from the Madden 11 menu on an individual basis (2000 coins/67 cents), as a full weekly set (5000 coins/$1.67), or as full season pass for all released throughout the year (60000 coins/$20).