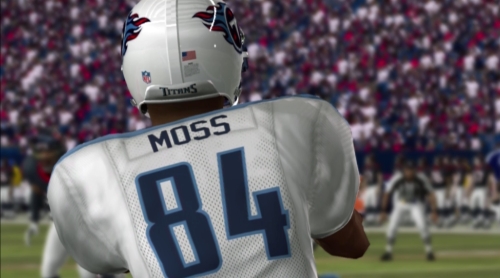 Randy Moss has been awarded to the Tennessee Titans off waivers. The Titans were 22nd in line to nab him meaning the 21 teams ahead of them passed on the opportunity to bring in Moss. The team is on a bye this weekend which will allow time to integrate Moss and get him settled.
Though not one of the teams initially linked to Moss he could take their offense to another level. With Chris Johnson at RB (98 overall rating), a dynamic QB in Vince Young (81 overall), and an emerging Kenny Britt (84 overall) to line up across from him after recovering from his injury, adding Moss introduces a whole new weapon for opposing defenses to have to account for. In Madden 11 Moss currently has a 95 overall rating with 96 speed and the perfect 100 rating in spectacular catch. Expect his ratings to drop a bit though after lackluster performances with the Vikings and really throughout the whole season.
Of course the very same thing was said about Moss being added to the Vikings offense with playmakers such as Adrian Peterson and Percy Harvin around him. It will be interesting to see if Moss buys into the team or if he ruins what could be a promising season for the Titans.
What do you think of Tennessee bringing in Randy Moss? Continue on for more screenshots of him as a Titan and leave your thoughts in the comments!