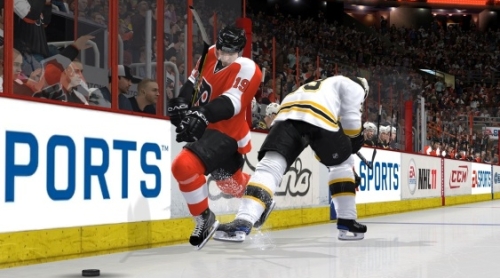 A patch for NHL 11 is nearing release for the 360 and PS3 and could make their way out as early as this coming week. Continue on for a list of details for the patch focusing on the gameplay improvements and some other fixes. There are more changes that will be delivered in the patch but this represents all the known fixes and adjustments so far.
Fixes for several rare crashes during gameplay.
Fix problem that resulted in attributes of players who drop from OTP/EASHL games not being reset to the default attributes for AI players.
Prevent push puck while holding the pass button (prevents an exploit).
Prevent the face-off deke move from being done on a backhand face-off grip.
Eliminated several situations where the puck could be poked out of the goalie's glove as he is getting up or covering the puck against the side of the net.
Allow shots that are blocked without using the shot block control to count in shot block stats (but they will not contribute to teamplay scores in Be A Pro, Online Team Play or EASHL modes).
Fix some situations where a puck off the skate was incorrectly being considered a deliberate kick and resulting in goals being disallowed that should not have been.
Fix for cases where the goalie would sweep the puck into his own net when attempting to clear it.
Fix problem that prevented the opposing team from being able to pick up slap passes in some situations.
Prevent fake shot from being used when doing protect puck.
Force self-boardplay pin to have a minimum duration to prevent an exploit.
Fix for a case where broken or dropped sticks would disappear from the ice.
Fix problem where the first powerplay forward line was being put out following a delayed penalty, regardless of what line the user selected.
Prevent stick lifts from working on a player while he is doing the "jump over" deke.
Fix problem where injured players could get stuck on the ice.
Fix problem allowing hard passes off of a face-off.
Fix problem that sometimes caused a defenseman to be positioned on the wrong side for short-handed defensive zone face-offs.
Increase the effect of the stick checking attribute on stick lifts.
Prevent flip dump from being used directly on a face-off.
Prevent situations where a player could go directly from being down on the ice into a slapshot windup.
Improve defensive awareness attribute effect on interceptions.
Cause players to slow down more while skating using protect puck control.
Add additional pass error to the AI players to balance the fact that humans players have imprecise controller input.-Enabling auto-backskate setting to work in online games.
Reducing the ease of losing an edge and falling down while skating without the puck.
Fix problem where players will fall easily again immediately after losing an edge a first time.
Increase how aggressive AI defenders are on the rush making it less easy to gain the zone by skating wide on them every time.
Increase friction when diving and reduce the effectiveness of diving poke checks at knocking the puck away from the puck carrier.
Increase the acceleration and top speed of a player using push puck, which had been lowered to prevent the push puck exploit (mentioned above).