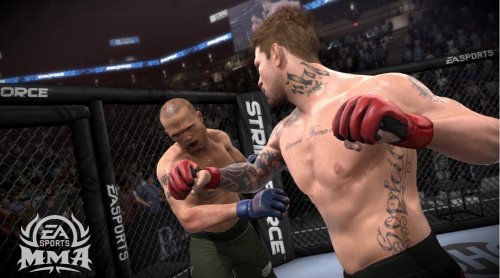 A patch for EA Sports MMA is currently being completed and some details on what is on the way have been revealed. Though there seemed to be no major pressing issues with the game there have been some cases of imbalance particularly having to do with body shots and the effectiveness of the button control scheme when compared to total punch control.  Some of what will be included in the patch is listed below.
Reducing the range and combo speed for hook to hook combos to the body
Increasing the stamina loss for failed takedown attempts
Stronger punches in the dominate turtle position
Enlarged window for denying takedowns from the clinch.
Adding Head Arm choke to Josh Thomson's move set
10 Point scoring system fixes
Adjustments to the camera's in the clinch so they do not sway as much during strikes
Updated Fighter Records for Gesias Cavalcante, Josh Thomson, Nick Diaz, Ronaldo Souza, Tim Kennedy and Tyron Woodley
Fix issue where Gamertag/Online ID for the fighters were not displaying when viewing Fight Replays
Resolve issues that caused occasional softlocks during online matches
At its current stage the patch will still need to get through final Q&A testing and then certification from Microsoft and Sony. That puts the release of the patch for EA Sports MMA in a potential time frame of early December.