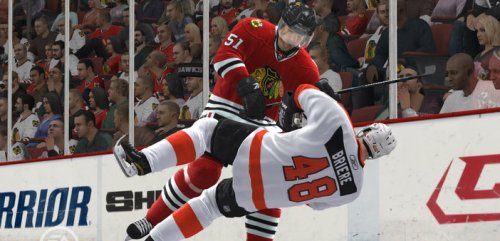 Over the weekend some of the gameplay related fixes and improvements for the NHL 11 patch were laid out. Now EA Sports has released a full comprehensive list of everything that the patch will be influencing. That includes in areas such as online play, Be a GM mode, Hockey Ultimate Team mode, and more.
The PS3 has already received this patch while it is slated to be released for the 360 on Friday. Continue on for the full list of details and leave your thoughts in the comments!
Gameplay
Fixes for several rare crashes during gameplay
Fixed problem that resulted in attributes of players who drop from OTP/EASHL games not being reset to the default attributes for AI players
Prevent push puck while holding the pass button (prevents an exploit)
Prevent the face-off deke move from being done on a backhand face-off grip
Eliminated several situations where the puck could be poked out of the goalie's glove as he is getting up or covering the puck against the side of the net
Allow shots that are blocked without using the shot block control to count in shot block stats (but they do not contribute to team play)
Fixed some situations where a puck off the skate was incorrectly being considered a deliberate kick and resulting in goals being disallowed that should not have been
Fixed for cases where the goalie would sweep the puck into his own net attempting to clear it
Fixed problem that prevented the opposing team from being able to pick up slap passes in some situations
Prevent fake shot from being used when doing protect puck
Force self-pin to have a minimum duration (prevents an exploit)
Fixed for a case where broken or dropped sticks would disappear from the ice
Fixed problem where the first PP fwd line way always being put out following a delayed penalty, regardless of what line the user selected
Prevent stick lifts from working on a player while he is doing the "jump over" deke
Fixed problem where injured players weren't getting off the ice
Fixed problem allowing hard passes off of a face-off
Fixed problem that sometimes caused a defenseman to be positioned on the wrong side for short-handed defensive zone face-offs
Increase the effect of the stick checking attribute on stick lifts
Prevent flip dump from being used directly on a face-off
Prevent situations where a player could go directly from being down on the ice into a slapshot windup
Improve defensive awareness attribute effect on interceptions
Cause players to slow down more while skating using protect puck control
Add additional pass error to the AI players to balance the fact that humans players have imprecise controller input
Shots that result in a broken stick can no longer be deflected
There are also several bug fixes made possible by the patch that will be activated through the next tuning update, these include:
Enabling auto-backskate setting to work in online games
Reducing the ease of losing an edge while skating without the puck
Fixed problem where players will fall easily again immediately after losing an edge a first time
Increase how aggressive AI defenders are on the rush making it less easy to go wide on them
Increase friction when diving and reduce the effectiveness of diving poke checks at knocking the puck away from the puck carrier
Increase the acceleration and top speed of a player using push puck, which had been lowered to prevent a push puck exploit (mentioned above).
Audio
(Fixed) Pittsburgh Intro sometimes mentions Mellon Arena instead of the new Console Energy centre.
HUT Mode
User is no longer able to edit their player card's overall stats by editing that player in Creation Zone and then discarding the HUT card for more pucks than initially worth (Note – it was only a small increase to the value of pucks gained and also this had no effect in the auction house or in gameplay. Also this is the reason why we now reset your roster when entering HUT from the main menu.)
Fixed a crash that sometimes occurs during the loading screen
Fixed issue where users were getting two goalies to appear in HUT games.
Fixed HUT initial line creation so the 4-man lines are C-RW instead of LW-C
Fixed a HUT problem where user "A" disconnects very early in the loading screen which will cause user "B" to get a DNF and lose contracts
Changed the default minimum age for North American discs to 10 instead of 16. (Note – This coincides with our ESRB rating of E10+ and does not apply to any European regions due to different age ratings in those areas)
Fixed the Time Remaining strings, they will now show properly for card pack sales
Fixed Rare crash backing out of the search screen of the Auction Hall
Fixed the bug where the current bid disappears on the search results screen.
Fixed an issue where game will crash if the user is browsing coaches in the auction hall where a previous bid is won
Added the ability to lower the minimum starting price for HUT auction (server side control)
Fixed issue where user was put into an unplayable state after attempting to buy an expired Promo pack.
Fixed issue where Deal and Promo tags were being displayed incorrectly in the store. (Note – with promo packs activated in the HUT store, the incorrect "Deal" tag displays. One deal/mega-deal packs should have that description. Everything else that is not sold at a discounted price during promos should have the "Promo" tags.)
Online
Fixed issue where PS3 users who match up on the side select screen rarely have"GAMERTAG" text will be displayed.
Fixed issue where host migration did not work for Versus and Shootout quick matches (Note – Backing out of the side select in Versus or Shootout will now allow you to stay in the side select while another user attempts to join your session)
Fixed EASHL Bar graph that shows where the club sits in the league standings does not show the correct position when the divisions house more than 100 teams and the club is not within those 100 teams.
Fixed EASHL – User must select Submit in the GM Options in order to save any Custom Jersey changes, backing out of the screen doesn't prompt a save and you lose your progress (Note – Now just backing out will warn the user that they have unsaved changes and if they continue to back out that they will lose those changes. The user would still have to select Submit on the screen to save)
Fixed EASHL – Game rarely crashes when entering the Clubs Play Game screen (Note – This is likely the crash that occurs when users advance into the side select and then having the other team back out. Sometimes when selecting OK to the session has ended going back into the dressing room would cause your console to lock up.)
Fixed issue where PS3 VoIP is very poor quality, especially when using Bluetooth headsets (Note – This is a code side improvement, we also made a server side change to help improve the quality. We found that there was less background interference and less echo when talking with this change. We also found that lowering you microphone's volume levels in the XMB helps reduce the background noises)
Fixed issue where Posting a new Tuner Set during a server reload will cause users to Desync (Note – Previously we had to do a full server down when posting new tuner set updates, which usually happened at 2AM PST. With this change we will be able to do tuner updates without taking the servers down. We initially found this problem a few days after launch where everyone entering game would Desync immediately (Desync = faceoff loop). Technically this could still be a possibility after this fix if a game session is created and the tuner is immediately uploaded and someone else joins that session with the tuner update already downloaded. The game would then Desync at the start, no stats tracked or games lost if this happens, and once you go into your next session you would be prompted to download the tuner update. We will still be uploading tuner updates during non peak hours to avoid the likelihood of this affecting a lot of people.)
Fixed issue where Sometimes wins count as losses in Online Shootout (Note – We made a fix for this issue and were not able to get this to occur after the fix)
Fixed EASHL – User will be frozen in the Recent Games screen if they select to view a game before that team's logo finishes loading
Fixed Online Leagues – Users are not able to create a league with 32 teams with unique rosters ON (Note – Online Leagues were defaulted to a max of 10 teams, however they could create a 32 team league if unique rosters were off)
Fixed Lobby – Everyone's Player Module Rank and Record isn't showing correct stats, either 0-0-0 or nothing at all
Fixed EASHL – Users who drop out of an EASHL game are not replaced by a CPU player with base attributes (Note – When user drops, their stats drop to base level CPU's stats. The player likeness and name will remain the same, however their skill and rating will drop in game.)
Fixed issued where sometimes certain users will lose connection while loading Game Modes save files (Note – Only applies for Be a GM/Season/Be a Pro save files)
Fixed issue where sometimes users will hang when selecting Drop-in Game (Note – This was fixed server side a few weeks after launch and not in the actual patch itself)
Fixed crash in OTP at coach feedback screen when using controller 2
Hockey Shop Boosts
Fixed issue where Strength +5 and Slap Shot Power +5 do not unlock correctly when trying to unlock by participating in an EASHL Playoff game (Note – It was only unlocking for the player locked to center during a playoff game but no one else. This was fixed to allow everyone to have the boosts unlock)
Fixed issue with Boost pack being improperly applied to a player (Note – This was the issue that some people were seeing with the pre-order Bauer Anniversary Pack. It actually had nothing to do with the pack at all because the bug would occur when you went to Edit your pro's equipment (any equipment) and then go into the Hockey Shop. A Boost Pack would sometimes be unlocked and applied even if the user didn't have the boost pack unlocked.)
Fixed exploit where User is able to duplicate boosts so they have up to +15 in each equipment type
Fixed issue with Store continually showing 'Retrieving Hockey Shop Information…." status when accessing the store while a non-XBL profile is signed into controller 2
Fixed issue where Wrist Shot Accuracy +3 wasn't unlocking after you made your NHL team's top line in BAP
Fixed issue where Slap Shot Accuracy +1 wasn't unlocking after you scored 2 goals in the Memorial Cup
Be a GM
Fixed issue where players will get stuck at 1500 xp and will not purchase ratings
Fixed issue where wingers are growing too much in Faceoffs during in season growth
Fixed issue with created player do not have a UFA year when they are taken into Be a GM
Fixed issue where players get trapped in the minors if the preseason games are played after waivers go into affect
Fixed issue where user can get two RFA players to accept an offer that involves the same compensation picks
Fixed issue where game will crash when trying to view the draft info for Petteri Simila of the Montreal Canadiens
Fixed issue where unsigned players are not staying on their teams when starting at the Draft with Default rosters
Be a Pro
Fixed issue where autosave is disabled within a BAP career if User plays any Online modes before playing BAP
Fixed issue where blocked shots are improperly recorded in the Last Game Performance and Career Performance screens
Fixed a rare crash in BAP during a faceoff, also occurred in EASHL
Fixed issue where Be A Pro- User's camera perspective will be facing down the ice when they play an Away game, after playing a Home game with any non-Be A Pro camera type and perspective Prefer Up
Fixed issue where Controller disconnection causes camera change for 'Be a pro' Goalie causing the title to hang after any cinematic in game.
Season Mode
Fixed issue where CHL team will reject trades due to too many prospects
Fixed issue where game will crash when entering gameplay with the Saskatoon Blades or Swift Current Broncos
Fixed issue where settings are not saved when using controller 2 as the lead profile in season mode.
Front End/Creation Zone/Rosters
Fixed issue where game will crash when viewing Player info for P.Simila or P Murphy