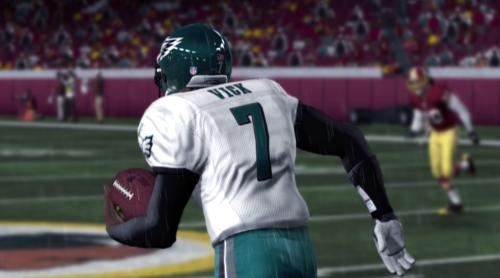 After a huge week 10 the question now arises as to whether Michael Vick actually deserves to be a 99 overall in Madden 11 and the argument can certainly be made that he should be. It would be an unprecedented leap to go from starting the year at a 73 and getting incremental upgrades through roster updates only to reach the pinnacle by the end of week 10.
He currently sits at 87 and there has never been a one week jump that could even compare to going from that place to a 99. Really though where a player starts shouldn't prevent them from either reaching a certain height or falling to a particular low when their performance warrants it.
Vick on the year has 11 TDs without having thrown a single INT and 4TDs rushing while leading the league in passer rating. He is just as dynamic and explosive as ever but has really refined his game as a passer with the patience to stay in the pocket and allow routes to develop. If he had started from week one and not been hit with the injury that cost him most of four games who knows what those numbers would be considering the level he has been playing at.
Other names that stood out in week 10 include Mike Williams (SEA), Dez Bryant, Dwayne Bowe, David Garrard, Kyle Orton, Colt McCoy, and LeGarrette Blount. Continuing on a downslide is Carson Palmer, Brett Favre, Jay Cutler, and Randy Moss. Aaron Kampman, Andre Smith, and Chad Pennington are headed to the IR.
Where do you feel Michael Vick deserves to be rated? As always feel free to also leave your thoughts in the comments on which players or teams deserve increases or decreases in ratings.