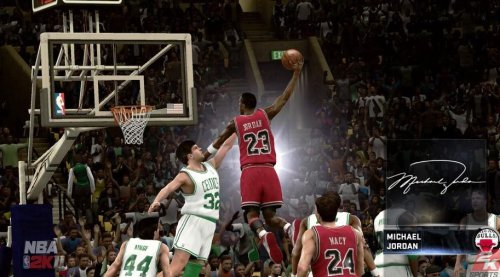 NBA 2K11 added Michael Jordan not just as a marketing tactic but as the focus of several game modes despite the significant cost that came with obtaining his rights and personal blessings. That decision has paid off as NBA 2K11 sold more copies than any other game in October.
With NPD no longer releasing actual numbers and combining platforms in the rankings that distinction doesn't really tell the whole story however. NBA 2K11 has six different platforms included in its total while runner-up Fallout: New Vegas had just three. New Vegas actually topped the month with the highest individual SKU as its 360 version pulled in 679K.
That New Vegas number provides a ceiling to what NBA 2K11 could have done with its largest selling SKU (likely 360). Based on the past few years the trend has been the PS3 version of NBA 2K gaining significant ground on the 360 so the balance will be there more than proved to be seen with New Vegas which totaled 1.17 million for the month. The secondary platforms of the PC, Wii, PSP, and PS2 are unlikely to have contributed significant numbers to NBA 2K11's total.
Putting all of this info together it is clear that NBA 2K11 sold over a million copies on the 360/PS3. That puts it right into territory of doubling sales of NBA 2K10 which sold 524K combined last October.
The NBA 2K series has shown impressive growth this generation and has picked up a larger percentage year-over-year than most of the yearly sports franchises. 2K10 brought in 60% more than 2K9. That means over the span of two releases the franchise has grown by approximately 400%. Sales of NBA 2K8 are unknown because the 360 version placed 18th and the PS3 didn't finish in the top 20. That is how far it has come in such a short period of time.
It wasn't just Michael Jordan that made the game sell twice as much. 2K Sports had the confidence of consumers going in and finally lived up to the marketing by delivering features that were largely functional while also improving (though the still sub-par) online play. That has allowed word of mouth to be strong and drive sales beyond the initial surge.
The social media element also had a large effect on NBA 2K11 as shown by its heavy presence on Twitter through the days surrounding release. This was not a typical yearly sports game hitting the market…it became an event and in that a must-have purchase for many who may not even typically buy an NBA game.
Now 2K Sports is faced with a situation that any gaming company would love and that is figuring out how to keep all these consumers going forward by continuing to provide the value they did with 2K11 and a compelling product that transcends just sports gamers. How many of the sales were people who were only interested for Jordan? Will he be back next year? Surely in the contract he locked in a clause to prevent 2K from doing something similar with other legendary players going forward. How many of the purchasers will 2K be able to retain regardless? There are a lot of questions that will need to be answered as to how 2K will be able to top what they provided this year or at least maintain their current level of success.
Once NBA Elite 11 dropped out as competition it opened the window even further for 2K11 to take advantage. Sales would likely have been only slightly affected though as Elite had absolutely no traction heading up to the release date of the two games.
Other sports games appeared in the top 10 with FIFA 11 coming in eighth and Madden 11 falling from second last month to ninth. NBA Jam for the Wii and EA Sports MMA did not chart but neither had any expectations of doing so.