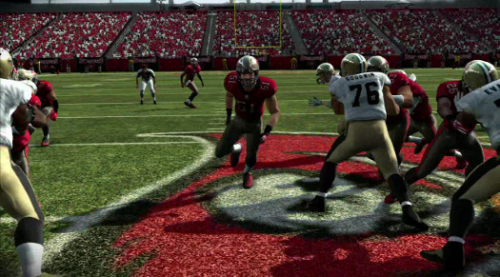 A trailer teasing the reveal of new game announcements that will be made at the 2010 Video Game Awards show includes a brief glance of an NFL football game. That hints at an NFL licensed product being unveiled at the show which takes place on the evening of Saturday December 11th. With the recent rumor leaking that EA Sports is planning to revive NFL Blitz that would likely be the best bet as to what is coming but it isn't a certainty.
The video flashes by so quickly that it is just a few frames but it turns out to be footage taken from a commercial for Madden 11 that focused on a first person perspective of seeing the action through the eyes of Drew Brees. Given the positive response that came from that ad it could be a sign that NFL Blitz, or whatever the game turns out to be, is going to be a first person football game. With a big concern as to how EA would possibly include over-the-top moments such as late hits when the NFL likely won't allow it, going first person could be an attempt to ratchet up the intensity and differentiate the title without having to glamorize the dirty elements of the sport.
That of course assumes that particular footage was chosen for a reason beyond just needing a placeholder for a new NFL licensed game. It very well may not mean anything, but regardless it looks like an announcement and first look is coming in just a few weeks.