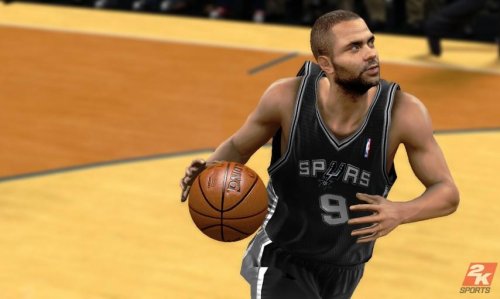 Typically events that take place away from the action of the sport are not reflected in player ratings. A few weeks ago Madden 11 dropped the stamina rating of Donovan McNabb after he was knocked for his conditioning by his coach. That was amusing and even made sense given his history and context of ratings adjustments due to performance. Ultimately it was related to on-the-field events so in that regard it was acceptable.
2K Sports though has taken it to another level and it is a questionable one. As discussed by Kotaku after being tweeted about by the 2K Sports community manager, the latest roster update for NBA 2K11 has taken Tony Parker's loyalty rating from an 87 to a 0. The rating is used to determine the likelihood of a player re-signing with his current team in Association mode. The news recently broke that Parker had been cheating on wife Eva Longoria who has since filed for divorce and this ratings hit was given in response to that.
Understanding that this is being done mostly in a tongue-in-cheek manner it really doesn't seem to be appropriate. Off-the-court transgressions in a player's personal life have nothing to do with loyalty to a team. In fact Parker just signed a four year extension with the San Antonio Spurs a few weeks ago. The Spurs are the team he was originally drafted by therefore justifying a boost to his loyalty rating if anything.
This could set an interesting precedent if it were to be applied to other players going forward. What do you think of the decision to adjust Parker's ratings based on his personal life? Leave your thoughts in the comments!