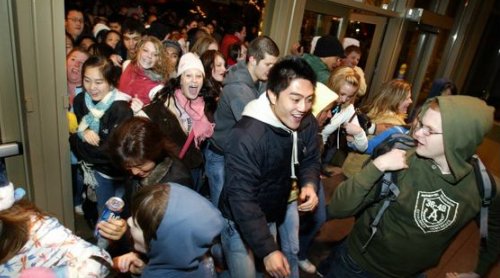 I've gone ahead and put together listings of Black Friday sales that relate to sports games. Some of the deals don't seem all that great at first glance, but considering that many of the titles in question incorporate the "Online Pass" it can end up being a savings over buying used and tacking on the $10 online functionality charge.
Those looking for many specific or a wide variety of sports games will find Best Buy and Walmart the places to go. NCAA Football 11, NHL 11, FIFA 11, and EA Sports MMA all are the lowest at Best Buy going for just $34.99. Smackdown vs Raw 2011 can be found for $29.99 at Best Buy also but that is only for the 360 while the PS3 version is discounted for $29 at Walmart. All versions of Madden 11 and the 360 version of NBA 2K11 can be found at Walmart for $29 as well. (Update) includes some comparable deals on Amazon.
Overall Gamestop has the worst deals of the bunch with the exception of UFC 2010 which is a doorbuster and can be had for $19.99. There doesn't appear to be any promotion of deals for NBA Jam on the 360 and PS3 as retailers instead attempt to dump the Wii version.
The following are just the advertised deals and as such are confirmed. It is quite possible that others will be found discounted in stores and deals may apply to other console versions than listed.
Best Buy
(Friday 5am till supplies last)
EA Sports MMA $34.99 (PS3/360)
FIFA Soccer 11 $34.99 (PS3/360)
Madden NFL 11 $34.99 (PS3/360)
NCAA Football 11 $34.99 (PS3/360)
NHL 11 $34.99 (PS3/360)
(Friday only)
WWE Smackdown vs Raw 2011 $29.99 (360)
MLB 2K10 $16.99 (PS3/360)
NHL Slapshot $39.99 (Wii)
Gamestop
(Friday 5am till Noon)
UFC Undisputed 2010 $19.99 (PS3/360)
(Fri through Sun while supplies last)
EA Sports MMA $49.99 (360)
FIFA Soccer 11 $49.99 (360)
Madden NFL 11 $49.99 (360)
NCAA Football 11 $49.99 (360)
NHL 11 $49.99 (360)
Tiger Woods PGA Tour 11 $49.99 (360)
KMart
(Thanksgiving 6am till 9pm)
Madden NFL 11 $39.99 but includes $10 coupon (PS3/360)
NBA 2K11 $29.99 (Wii)
NBA Jam $29.99 (Wii)
EA Sports MMA $39.99
NHL 11 $39.99
NHL Slapshot $39.99
(Friday only)
Madden NFL 11 $39.99 but includes $10 coupon (PS3/360)
NBA Jam $29.99 (Wii)
EA Sports MMA $39.99 (PS3/360)
NHL 11 $39.99 (PS3/360)
NHL Slapshot $39.99 (Wii)
Sears
(Friday 4am till Noon)
FIFA Soccer 11 $39.99 (PS3/360)
NBA Jam $39.99 (Wii)
Tiger Woods PGA Tour 11 $39.99 (Wii)
Target
(Friday and Saturday only)
NBA Jam $27 (Wii)
Shaun White Skateboarding $27 (PS3/360/Wii)
Walmart
(Friday and Saturday only)
Madden NFL 11 $29 (PS3/360/Wii)
NBA 2K11 $29 (360)
NBA Jam $29 (Wii)
WWE Smackdown vs Raw 2011 $29 (PS3)
MLB 2K10 $29 (Wii)
Amazon
(Deals pop up at any time and change often. I will update throughout. Below are current prices)
EA Sports MMA $39.95 (PS3/360) *Will be $34.99 on Friday
Madden NFL 11 $39.99 (PS3/360/Wii) *Will be $28.99 on Friday
NCAA Football 11 $39.95 (PS3/360) *PS3 version will be $34.99 on Friday
FIFA Soccer 11 $39.95 (PS3/360/Wii) *Will be $34.99 on Friday
Tiger Woods PGA Tour 11 $39.95 (PS3/360/Wii)
NHL 11 $39.95 (PS3/360) *Will be $34.99 on Friday
NBA 2K11 $42 $53.54/$51.54/$47.99 (PS3/360/Wii)
Smackdown vs Raw 2011 $57.99/$56.99 (PS3/360) *360 version will be $29.99 on Friday
NBA Jam $47.99/$47.99/$34.95 (PS3/360/Wii) *Wii version will be $26.99 on Friday
NHL Slapshot $39.95 (Wii)
NHL 2K11 $27.51 (Wii)
Newegg.com
NBA Jam $39.99 (PS3/360)
XBL Marketplace
Madden Arcade – 400 MS Points/$5