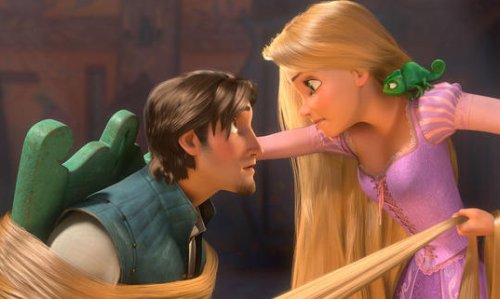 The Disney animated film Tangled opened above expectations however it still wasn't enough to stop Harry Potter. The second weekend of Deathly Hallows: Part 1 came in #1 at the box office for both the three day weekend and five day holiday run.
Tangled was able to draw $48.6 million for the three days and totaled $68.5 million from its Wednesday opening. Certainly having the power of Disney behind it helped as did a large opening of 3D screens thanks to Harry Potter bowing out of releasing in 3D at the last minute. Reviews were very positive and there is buzz building that it could get an Oscar nomination for Best Animated Feature. With Megamind starting to slow down that left an opening for Tangled as the best family film option as Harry Potter may be considered too dark for some kids.
Harry Potter and the Deathly Hallows: Part 1 made $50.3 for the three days and $78 million for the five days. That takes its total in 10 days of release to $222 million. That amounts to a sharp drop-off that wasn't unexpected due to the frontloaded nature of it being an event that crowds rushed out to see right away. After shattering the opening weekend record for the franchise it may struggle to become the top grossing one total.
Mixed reviews and a lack of interest from moviegoers damaged the openings for three other films. Burlesque came in fifth with $11.6/$17 million, Love and Other Drugs was sixth with $9.6/$13.8 million, and Faster was seventh making $8.5/$11.8 million. While they came in line with expectations they are considered disappointing results considering they all had the potential to do much better. Burlesque looks to be in the worst shape considering its budget was much higher than the other two.
Holdovers saw Megamind in third pushing its total run to $130 million and Unstoppable in fourth. Due Date, The Next Three Days, and Morning Glory rounded out the top 10.