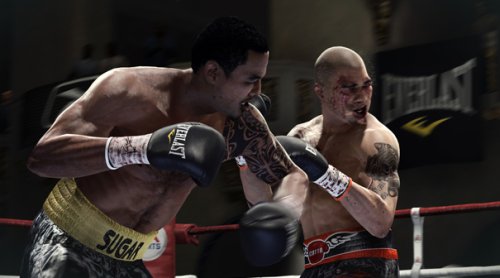 One of the complaints surrounding Fight Night Round 4 was the tumultuous pre-release experience due to various pre-order deals and demo release dates. Tying in the demo with pre-orders turned out to be a massive mistake that stunted momentum and created confusion. Essentially there were three different demo dates dependent on whether it was pre-ordered at Gamestop and which system was in question. Thankfully it doesn't appear that EA Sports will be taking a similar route with Fight Night Champion.
Still the pre-order deals will be dependent on what retailer is chosen leaving consumers to decide which they value the most. The first two that have laid out details are Gamestop and Amazon. I'd say that Amazon's offering is the more appealing of the two but both will probably be available via DLC if not obtained with a pre-order.
Gamestop: Reserve EA SPORTS Fight Night Champion and receive a GameStop-exclusive 100th Anniversary Everlast Boost Pack featuring Everlast gloves and boots for your created Legacy Mode boxer.

Amazon: Pre-order Fight Night Champion and receive young George Foreman as an exclusive boxer. Fight as George in his earlier years with the power and speed of a young champion.
Remember that buying new also means receiving the "Online Pass". Walmart and Best Buy are likely to have their own pre-order incentives however they have yet to reveal their plans.