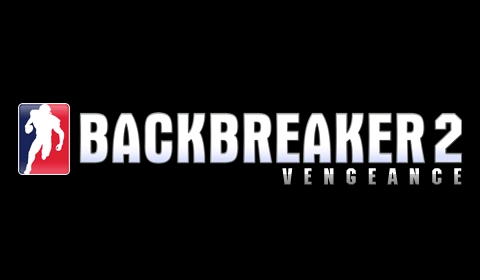 By: Brian Sipple
The sports gaming version of Barack Obama running a campaign of hopeful and exciting promises to revamp a struggling nation, Backbreaker was marketed as the ultimate anti-Madden, the game that – with the use of its Euphoria physics engine – would give those who felt beleaguered from EA's exclusive NFL license a formidable alternative. Although before being patched, the console version received reviews slightly more positive than the Democratic Party's election results this fall the mobile game is a different story. In just over a year it's already racked up over 3 million downloads on iTunes alone.
The iPhone version of Backbreaker has been praised for its fun, hyper-real gameplay. However many still felt that it lacked enough content to fully enjoy the experience. Perhaps noticing the charm wearing off a little bit, NatrualMotion sought to improve on its original iPhone title with the release of Backbreaker 2: Vengeance.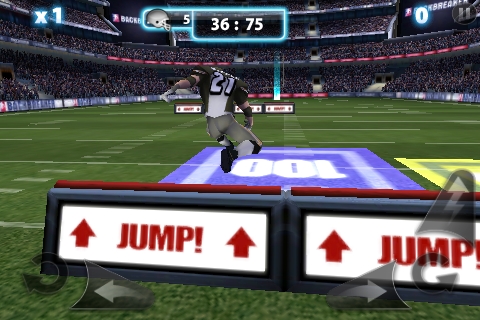 Launching on the App Store last week for $2.99, Backbreaker 2 returns with a more extensive set of features, including the aptly named "Vengeance" mode, which makes you the hitter instead of the hitee. Though still not the same 11 on 11 gameplay only offered in Madden, the tried and true arcade nuances that made the first Backbreaker app an addiction for so many haven't been lost on the sequel.
Part of what led to the original Backbreaker's success – other than, you know, it's football – was the non-stop adrenaline rush brought with every level. In "Tackle Alley" you're dropped onto the field, all alone, as wave after wave of defenders run at you with every intention of rearranging your spinal column. This basic, fun-based formula, combined with that urge to master every move and best your top score gave Backbreaker enormous replay value.
The basic idea behind Backbreaker 2 is so obvious, yet it works so well: Improve on an already great game and include a mode that turns the tables on players once the original experience starts to stale. Vengeance mode pulls this off perfectly by focusing on a side of football some would argue is neglected in other games of the day – tackling. Similar to Tackle Alley, players have to use their best moves to dodge incoming opponents that serve as blockers. Instead of showboating into the end zone though, you're trying to make the last man have to breathe through his ear hole (Suck it Goodell!).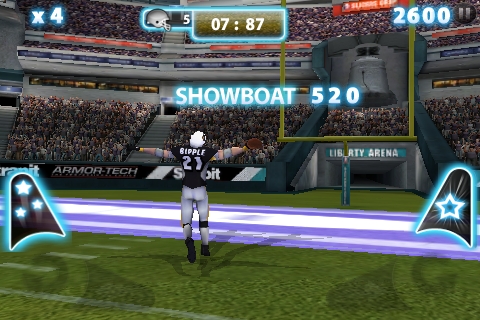 Both modes consist of 10 different multi-stage levels that all provide a unique and entertaining feel. There's also good lasting appeal thanks to unlockable achievements and teams, custom player creation, and integration with Apple's Game Center. Being a full-fledged sequel though you can't just add a new game mode and call it a day.
Several additions have been made to flesh out the gameplay as well. On-field obstacles like hurdles throw more challenges into the mix, while jumping and trucking are added to your arsenal of moves and blend in seamlessly with the already airtight control scheme. Plowing through a defender can be immensely satisfying, but be careful – the two new abilities only work on players wearing a certain color. Try to go all Peyton Hillis and truck every man in sight and you won't stand a chance.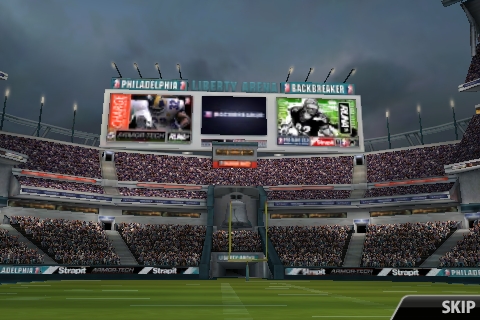 Backbreaker 2's stellar graphics are a significant step up from the first title, and are on par with any other game out there thanks in part to the iPhone 4's retina display. Highly detailed player models, stadiums, and crowds are encompassed by beautiful day and nighttime lighting. Also the over-the-shoulder camera provides a good field of vision but still zooms in at the right time to capture the cringe-inducing hits generated by NaturalMotion's animation technologies.
If there is one knock I have against Vengeance it's that the sound quality doesn't do the visual presentation enough justice. That ominous opening buzzer still gets me every time, but it's the tackling sound effects that seem a bit underwhelming; if I can see bones getting broken I want to hear it too. The $3 price might also leave a bad taste for those who already paid $1 for the first Backbreaker. That said I think even veterans of the series will find that Vengeance mode makes it a worthwhile upgrade, while newcomers will get the best of both worlds.
Backbreaker 2: Vengeance is to the original Backbreaker what The Godfather Part II was to the original Godfather. It takes a rock solid foundation and elevates it to even greater heights. The new game modes and deeper gameplay improve the series on just about every facet while staying true to its alluring roots. Though not an in-depth comprehensive NFL experience like Madden, when taken for the simple and entertaining offering the game was meant to be it's every bit as seductive to football fans and casual gamers alike. For just $2.99 Backbreaker 2 is easily one of the best iPhone sports games of the year.