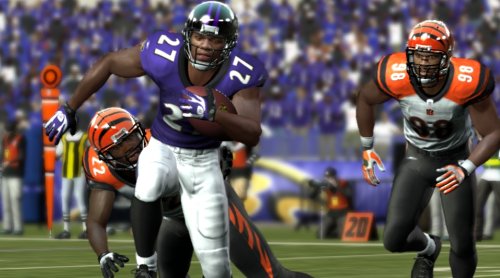 Last year Madden 10 was the top sports game in November and the series has traditionally done well over the holidays. However given the huge sales boost that NBA 2K11 received the expectation was that game would maintain its lead. Despite NBA 2K11 doubling its opening month sales in October and finishing in first place it fell to ninth in November while Madden 11 landed in fourth.
Without actual numbers, which the NPD no longer provides but will sometimes still find their way out, it is difficult to provide detailed analysis on this. 2K11 obviously became an "event" at its release which would account for a large drop-off. Based on history the typical drop-off in the second month for a sports title is around 78%. That can fluctuate from 70-85% depending on word of mouth and other factors. Taking the average that would put 2K11's November at about 245K which would still be a very respectable number, though I suspect 2K11 probably pulled in a little more than that.
So NBA 2K11's fall down to ninth is less an indication of weakness as it is a sign of Madden's current strength. Last month was about negativity with the news Madden 11 was down 18% after opening up 12%, but finishing in fourth place here surely is impressive.
Even though many were disappointed with Madden this year it remains a top choice to go along with new console sales, which probably accounts for its surge in November as the Xbox 360 especially made huge gains thanks in part to the release of Kinect. Madden 11's sales for November look to be in the range of 500K.
There has been no reporting of the numbers for NBA Jam HD. The 360 and PS3 versions of the game have clearly been big sales disappointments though, following a weak number for the Wii version in October.