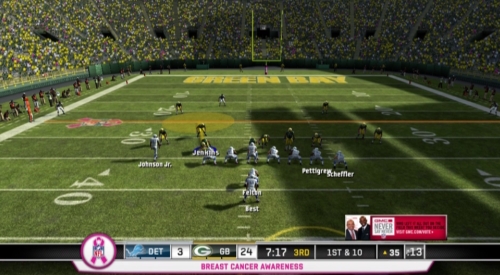 There has been plenty of discussion centering around the growth of downloadable content offerings and even modes built around the microtransaction model. Recently there were some details revealing just how lucrative those initiaties have become.
What hasn't been looked at with the same analysis is the developments with in-game advertising. This generation has brought about more ad placement within sports titles, for the most part fitting within the real-life scope when it comes to placement. There have been some examples that have gone beyond that though. MLB 2K9's plastering of ads within stadiums that even altered dimensions of the parks and Madden 10/11's pre-snap popup ads immediately come to mind.
An article in the latest edition of Edge Magazine goes over how in-game advertising is not delivering much revenue for EA especially when compared to what microtransactions are bringing in. This isn't just related to Madden but throughout their entire distribution library.
"We actually aren't getting much from ad revenue at all. The in-game advertising business hasn't grown as fast as people expected it to."
Don't expect in-game ads to disappear however. Even if they aren't bringing in the money they would have hoped for they remain a path to revenue that won't be brushed aside. What will be interesting to see is how strategies are altered and how companies will look to insert creative tie-ins. One recent example is with the 3D mode for Madden 11 being linked to Doritos. Hopefully the ads will become less intrusive and settle back into more natural placement and usage trends.