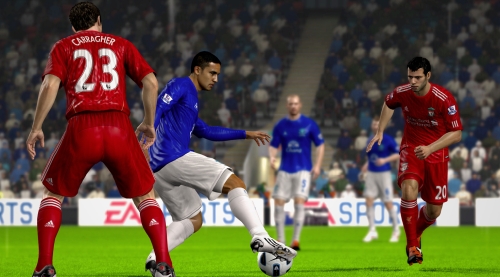 FIFA 11 continued its run this year as the most popular sports game in the world, becoming the fastest selling sports title ever. In the US it has been gaining steam the past few years and broke through in its first month of sales with its best performance ever finishing in fifth place. The game continues to provide a realistic experience along with a wide array of features that help it appeal to even non-soccer fans.
The ranking of games in the best of 2010 list is based on the personal amount of enjoyment had with a particular title, whether advertised features were fully delivered on, post-release support, community interaction and communication, overall gameplay experience, feature set, and online play performance. Again this is largely a personal take on the games and not a recap of those with the highest scores on Metacritic. The analysis is weighted heavily towards those which I had the most fun with while considering them as a whole and compared relatively to the field.
(Related: Fastest Selling Sports Game Ever – FIFA Issues – Patch Details)
Some of the improvements this year that really shined came with "Player Personality" aka "Personality +". That helped to define individuals more in their skill sets and increased the authenticity of the gameplay. The expanded range of movement of the players was also noticeable, as were tweaks such as fatigue and acceleration playing a part in performance. The introduction of the Creation Center (think NCAA Football's Teambuilder feature) and custom audio were good moves and added more value to the package.
FIFA 11 released with a laundry list of issues which is not all that different from most titles face in the early days. A patch was released in November to address many of them and improve the game based on community feedback. FIFA Ultimate Team has also grown into a monster, which can be a positive or negative depending on an individual's perspective and their potential enjoyment of the mode.
A significant addition came with the ability to control the goalie. Online Team Play expanded to 11 vs 11 and Be a Pro offered the chance to play as a goalie through a career. It made for a very unique experience, one with quite a bit of dullness but then sparks of intensity and pressure.I know the whole point is to experience the game from that point of view, but with such a lack of action it is tough to stay focused and feel like an active contribution is being made. I would like to have a way to zoom into the action that I can't really see from the goalie's perspective to get to at least watch what is taking place, or a chance to fast forward to when the action is on my side of the pitch (offline).
What may have kept FIFA 11 from being higher on my list is the multiple other soccer titles on the market taking away a bit of its shine. 2010 FIFA World Cup arrived earlier in the year and the competition in Pro Evolution Soccer 2011 offered more of a challenge. Still FIFA brought a deep feature set, supreme online play, and subtle gameplay improvements that kept it amongst the best sports gaming has to offer yet again.
#5: FIFA 11
#6: Madden NFL 11
#7: Kinect Sports
#8: MLB 10 The Show
#9: NHL 11
#10: NBA Jam
Community Awards Results
The Worst of 2010
Community Awards Voting