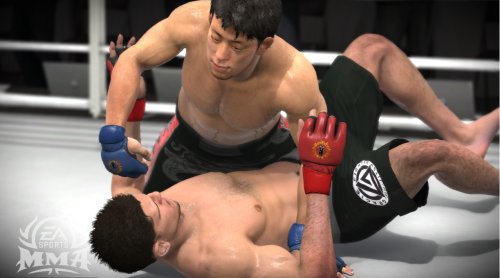 There are advantages to being the first entry in a brand new franchise. Chief among them are that expectations are naturally lower and consumers interested in the product tend to be more patient. UFC Undisputed broke onto the scene last year capturing the top game of the year distinction by surprising with its fun factor and polish. EA Sports MMA succeeded as well this year by delivering on accessibility and innovative features.
The ranking of games in the best of 2010 list is based on the personal amount of enjoyment had with a particular title, whether advertised features were fully delivered on, post-release support, community interaction and communication, overall gameplay experience, feature set, and online play performance. Again this is largely a personal take on the games and not a recap of those with the highest scores on Metacritic. The analysis is weighted heavily towards those which I had the most fun with while considering them as a whole and compared relatively to the field.
(Related: Hits and Misses – Sequel Confirmed – There is a Future for EA MMA – Career Mode Impressions – Online Impressions)
Not carrying the UFC license was a major hurdle to overcome and EA Sports did a commendable job by bringing in multiple licenses headed by Strikeforce as well as varied rule sets and offering both the cage and the ring. What ends up being restrictive for UFC meant flexibility for EA MMA. It still made it a tough sell but the expectation was never that the game would be a breakout hit right away and instead the first goal was to establish it as a credible franchise and they were successful in doing so.
After release of the game there seemed to be almost a smear campaign being made by various outlets. Not only gaming outlets but those that cover MMA were trying to bury it. I'm not sure if that is because they wanted to buddy up with UFC since that is where the money is, or if it was just some elitism being displayed against a game that didn't have the big license. Regardless EA MMA survived, accomplished what it set out to do, and will see a sequel as was always planned.
The controls took some getting used to but eventually they started to click and worked well for the context of the fights whether it be on the feet or on the ground. The consensus though was that the ground game was the superior end of things. The fatigue system was implemented especially well for dealing with transitions and submissions. Fighter ratings really helped to differentiate each guy from the next providing strengths and weaknesses that were best played to. The transition system may have been a little too mechanical though in its success or failure and ultimately may not have been deep enough for players who spent a lot of time working on their skills.
The career mode was strong and delivered on a good sense of variety and customization to tailor fighters to certain strengths. It also did a really good job of teaching how to improve fight skills along the way. Online play was impressive in both features and performance. The light user base though capped the potential and made very compelling features such as Live Broadcast and Fight Cards not terribly valuable in the end.
That one of my bigger gripes was with the game's load times shows that EA did a great job of eliminating frustrating elements that have plagued games with similar structure. Innovative ideas that combined with accessibility and a fun experience made this one of my favorite sports games of the year. EA Sports MMA had its limitations but did a really good job at delivering on what it needed to and appears to have a bright future.
#4: EA Sports MMA
#5: FIFA 11
#6: Madden NFL 11
#7: Kinect Sports
#8: MLB 10 The Show
#9: NHL 11
#10: NBA Jam
The Biggest Stories of 2010
Community Awards Results
The Worst of 2010
Community Awards Voting