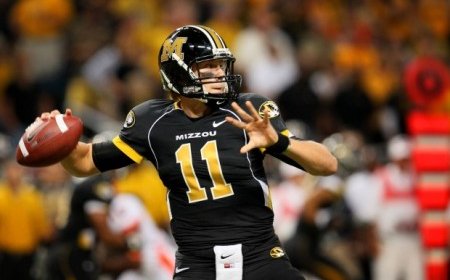 Missouri junior QB Blaine Gabbert has announced intentions to enter the 2011 NFL Draft. Gabbert is currently projected as a first round pick and could possibly land in the top 10. He could be the second QB off the board if Andrew Luck forgoes his senior year of eligibility and enters the draft as well.
Gabbert threw for 3186 yards on 63% completions with 16 TDs to 9 INTs. In the Insight Bowl loss to Iowa he went for a season high 434 yards but had two INTs, one of which was returned for TD as the eventual game winner. He has an ideal frame with a strong and accurate arm and decent mobility but struggles with decision-making at times and played in a shotgun heavy spread system.
Teams that could be a fit for Gabbert in the top 10 include the Cincinnati Bengals, Arizona Cardinals, San Francisco 49ers, and Washington Redskins.