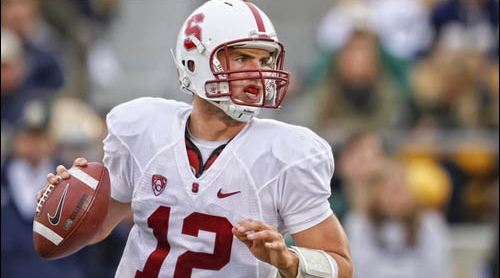 After completing a rout of Virginia Tech in the Orange Bowl last night, Stanford QB Andrew Luck now has the decision to make on whether he will return to school or enter the NFL Draft. Luck is seen as the sure-fire #1 pick and it appears the Carolina Panthers want him to know they feel the same way. Sources within the organization today leaked that if he does enter the draft that the team intends to take him with the top pick. While this comes as no surprise it is clearly meant to influence Luck's decision.
Knowing he will be the #1 pick, with the possibility of a rookie scale coming into play in the future, and the always present risk of getting injured or having his stock drop it would seem tough to pass up going pro. However Jake Locker turned away from a similar, though less concrete, opportunity last year to return to college for his senior year so it wouldn't be unprecedented if he were to do so. If coach Jim Harbaugh leaves for a new job that could push Luck further towards declaring as well.
The deadline to declare for the NFL Draft is January 15th.