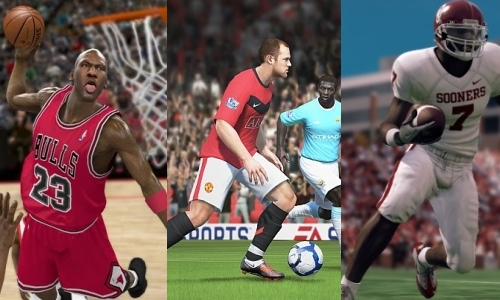 It was a year in sports gaming that had a couple really great offerings followed by several good titles that lacked significantly in certain areas. In that sense it was no different than any other year though distinctly more top-heavy. In the four years of doing a countdown of top games 2K Sports has now captured the top spot twice with NBA 2K11 and The BIGS. EA Sports has one nod with NCAA Football 09, and last year's winner UFC Undisputed 2009 came from THQ.
UFC Undisputed 2010 dropped completely off the list with a really rough showing and awful handling of the title by THQ that even resulted in the shifting of the franchise to a bi-yearly release. There seems to be a distinct trend with yearly sports titles where generally regarded "up years" are followed by "down years". Is that because expectations are raised following a great year and it is tough to follow up on that? Or is it just that resources tend to shift and focus or goals change too often?
2011 will present a challenge for NBA 2K12 given the influx of new gamers to the series and having to find a way to top what was an extraordinary offering. MLB 11: The Show has something to prove and early signs are the game will at least feel different due to the analog controls. NCAA Football 12 is at the cusp of being great but they've taken steps back in the past when in that position. Madden 12 will be interesting to watch given they seem to have learned lessons from the way this year was largely mishandled.
#1: NBA 2K11
#2: 2010 FIFA World Cup
#3: NCAA Football 11
#4: EA Sports MMA
#5: FIFA 11
#6: Madden NFL 11
#7: Kinect Sports
#8: MLB 10 The Show
#9: NHL 11
#10: NBA Jam
The Worst of 2010
The Biggest Stories of 2010
Community Awards Results