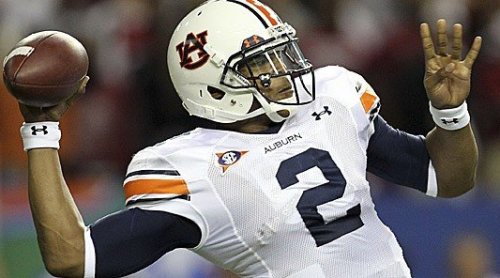 Auburn QB and Heisman winner Cam Newton has decided to enter the NFL Draft. Coming from seemingly out of nowhere to lead the Tigers to the National Championship, Newton put up a spectacular season throwing for 2854 yards with 30 TDs to just 7 INTs and rushing for 1473 yards and 20 TDs. He has a load of potential with a big arm, good height and large frame, and terrific athleticism.
Newton is projected as a first rounder but concerns could keep him from going at the top of the draft. Certainly issues regarding Newton's off-the-field decision making and character will be a consideration. He also missed a number of big throws in the BCS title game that could have broken the game wide open highlighting problems with accuracy. Having played in a spread system that generally just required making a single read and then taking off to run if it wasn't there is another big thing to consider. A transition to the NFL and a "Pro" system could be a lengthy process and there will be the worry that he was a flash in the pan having only done it for one year.
Of course there is still a long ways to go and interviews, workouts, all of that will factor in by the time April rolls around. At this point Newton looks to land near the middle or in the back half of the first round which could be an ideal place for him given the teams there are more apt to give him time to develop. Someone like the Washington Redskins at #10 could take a gamble on him though as he would be a fit in their offensive scheme. Arizona at #5 looks to be as high as he could go, with Minnesota at #12 and Miami at #15 also as potential destinations before sliding further.