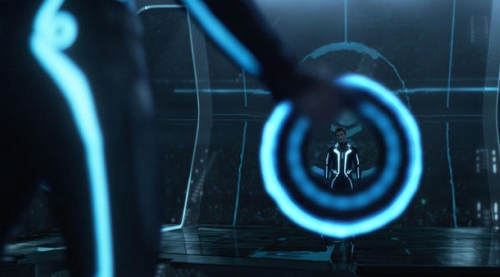 Despite a mixed response from audiences and unspectacular box office results, Disney may be set to green light a sequel to Tron: Legacy. According to Aint It Cool News the announcement of a sequel could be coming in the near future.
Budgeted at $170 million, but with a marketing push that may have resulted in the total spent having approached $300 million, Disney had hoped that Tron: Legacy would launch a new franchise. They saw it as a "boys" franchise to go along with all the more female oriented projects they have been successful with. Much of the budget was spent in building up the brand and it could be that it would not need to go to such lengths with a sequel.
Tron: Legacy has made $150 million domestically and and nearly as much in foreign markets and it will cross the $300 million mark total in the next few days. It still has its DVD and Blu-ray release to also bring in a significant amount of revenue. It also shouldn't be discounted the merchandising aspect which Disney is so adept at taking advantage of. So even though the film wasn't a smash hit it could still end up being a profitable venture therefore justifying the sequel.
An animated series Tron: Uprising is slated to start airing on Disney XD in summer of 2012. The series will take place during the time when CLU takes over the grid and Flynn flees to the safe house. Voice talent will include Bruce Boxleitner, Elijah Wood, Emmanuelle Chriqui, Mandy Moore, Paul Reubens, and Nate Corddry. The show could help to keep Tron relevant and fill in more of the backstory until the sequel arrives.