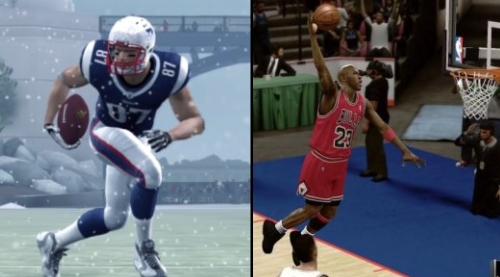 With strong showings in December both Madden 11 and NBA 2K11 were able to secure their respective spots within the top 10 highest selling games of 2010. Madden 11 finished as the second highest selling game of the year while NBA 2K11 came in tenth.
For December alone Madden 11 moved approximately 1.2 million copies and came in seventh place, while NBA 2K11 sold nearly a million for a ninth place finish. The holidays always represent a resurgence for sports titles and in particular Madden as it's an easy buy alongside new consoles. This year 2K11 became one of the few sports games to reach the mainstream and become a complimentary gift as well. There were also a number of deals that helped push sales with Madden and 2K11 being found new for as low as $30.
From its release in August through the end of December Madden 11 sold well over five million copies. It trailed only Call of Duty: Black Ops which more than doubled its total as the biggest game of the year. Madden 11 opened up 12% year-over-year but it did take a sharper drop-off in the months following compared to last year. That would seem to be a combination of the influence pre-order deals and the "Online Pass" along with word of mouth that wasn't nearly as strong as what helped carry Madden 10 to better than expected returns.
That trend following release month has continued as Madden 10 sold significantly more in December of 2009 than Madden 11 did in December 2010. Madden 11 fell about 20% for the month which should continue the concern but at this point EA has surely realized they made missteps with the game. The drop in sales just cements how consumers felt about the offering and in the process they spent their money elsewhere.
In the case of NBA 2K11 it has surged to right around 2.5 million copies sold since its release in early October shattering what most thought possible out of a basketball game. 2K11 topped the charts in October and doubled the sales of 2K10. It fell back down to earth somewhat in November but the resurgence in December shows that it has appeal beyond just the initial rush due to Michael Jordan's involvement and bodes well for the series going forward.