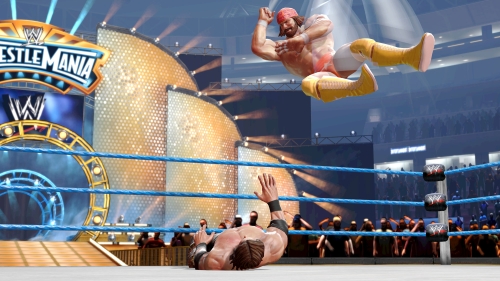 THQ has announced that "Macho Man" Randy Savage is amongst the playable characters in the upcoming WWE All-Stars. This is an especially significant development as he has absent in video games since WWF Royal Rumble released way back in 1993 for Super Nintendo and Sega Genesis and WCW/NWO Revenge in 1998 for the Nintendo 64.
Other confirmed wrestlers include The Rock, Triple H, John Cena, Sheamus, The Big Show, Kofi Kingston, Rey Mysterio, John Morrison, Bret Hart, Andre the Giant, and Ricky "The Dragon" Steamboat. "The Million Dollar Man" Ted Dibiase and Ted Dibiase Jr. are also being offered in the exclusive pre-order deal at Gamestop.
Having played the game for a short period of time at E3 it was high on fun factor and basic enough to pick up on quickly. It is better described as an arcade fighter set in the WWE universe rather than a wrestling game and its replayability will be a concern…as really is the case with all arcade-style games. Still though that was an early build using just two characters (The Rock and John Cena) and the full feature set of the game remains unknown.