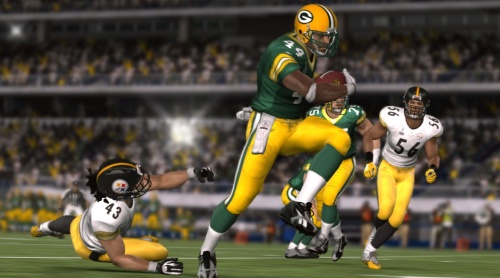 In what has become something of a tradition the first developer blog for the upcoming iteration of Madden will be released at halftime of the Super Bowl. This will mark the third straight year the series has kicked off promotion with a halftime blog.
Creative director Ian Cummings has tweeted that the blog has been approved by PR and will be ready to go. Given the state of the halftime shows at the Super Bowl, and with the Black Eyed Peas the featured act this year, attention can be turned away for a few minutes without missing much to check out the write-up here as soon as it hits. 
The content of the Madden 12 blog has not been revealed other than to eliminate franchise mode as a potential topic of discussion. That should come as no surprise with the game well over six months away. It isn't reasonable to expect significant details on features or improvements at this point in the development cycle. It is possible that the blog will carry with it some video or audio but that has yet to be determined. (Update: Two features will be revealed in the blog).
The first attempt at releasing info early two years ago was met with some backlash as expectations were high and the feature discussed didn't mesh with the community's expectations at the time. Even worse it didn't end up being realized in the final product. Last year a video blog laid out the vision and direction the team was taking for Madden 11 (more general and less risky) and also included some hidden info. All of that went over relatively well though the advantage was also there having just come off a strong release of Madden 10.
I think what has been learned through the first two halftime blog entries is that those who are checking out a blog this time of year are of the dedicated variety and want something of substance that resonates with the community (or at least something fun to mull over). There are ways to go about that without giving away marketing bullet points or features that aren't locked in and the video blog last year presented a good example of just that.