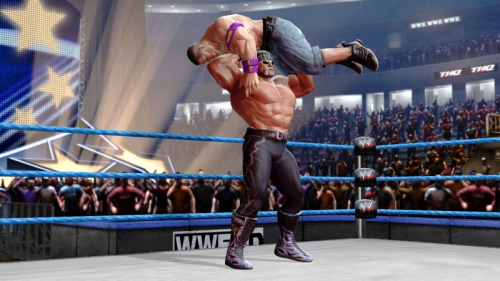 The first two in-game shots of Hulk Hogan from WWE All-Stars comes via the Facebook app detailed over the weekend. While one focuses on John Cena the other actually reveals the heel persona of "Hollywood Hulk" which is the first news of such being included. Check out the screenshot gallery for the two full size images and his character model.
It'll be interesting to see if this is just cosmetic as suggested by being labeled simply as "alternate ring gear" or if the "Hollywood" Hulk character will act differently than classic Hulk Hogan with each possessing different attitudes in and out of the ring.
This will also lead to speculation of other NWO members being included in the game such as Kevin Nash and Scott Hall. In the case of Nash he recently returned to the WWE and in doing so that would make for a perfect tie-in with the game. He even confirmed in an interview that he had spoken with THQ while at the Royal Rumble which is another indication he may be involved. There are still eight more "Legends" being kept under wraps that will fill out that side of the WWE All-Stars roster.