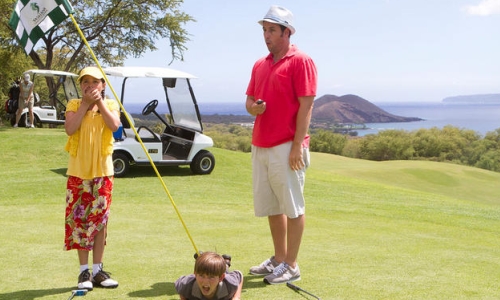 It was a tight race for the top spot at the box office this weekend as the Adam Sandler led Just Go With It faced off against the Justin Bieber biopic Never Say Never. The two other openers resulted in one hit and one disappointment.
In first place it was Just Go With It which continues the consistent $30+ million openings that Sandler delivers as it finished with $31 million. Also typical with Sandler driven films has been the poor reviews that audiences ignore. Marketing was solid and included a Super Bowl spot which surely helped with the awareness. Surprisingly it saw a big uptick of 43% on Saturday over Friday which means it could do well in the weeks ahead. His last film, Grown Ups, had excellent legs with even worse reviews and word of mouth.
Justin Bieber: Never Say Never pulled in $30.3 million which considering it only cost $13 million to produce is a big coup. It is not the biggest concert film though despite having the advantage of a rabid fan base and 3D ticket prices. Hannah Montana: Best of Both Worlds opened three years ago to $31.1 million on a fraction of the theaters NSN debuted with. Long term prospects are dim as the fans would have rushed out to see it, which even showed in the weekend multiplier as turnout dropped heavily on Saturday and Sunday. Those fans though could boost it by attending repeat viewings.
Benefiting from well over a month since the last family film hit theaters the animated Gnomeo and Juliet opened to a very successful $25.5 million exceeding expectations. Tracking was not that strong and reviews were mixed but filling the need for a new family film made it easily the most appealing option.
With the arrival of four new films one was surely to disappoint and in this case it was The Eagle. The Roman action-adventure starring Channing Tatum never gained much traction pre-release and reviews trended negative. It finished with $8.6 million.
Rounding out the top five was The Roommate which dropped a reasonable 44% to $8.4 million. The King's Speech, No Strings Attached, Sanctum, True Grit, and The Green Hornet complete the top 10 for the weekend.