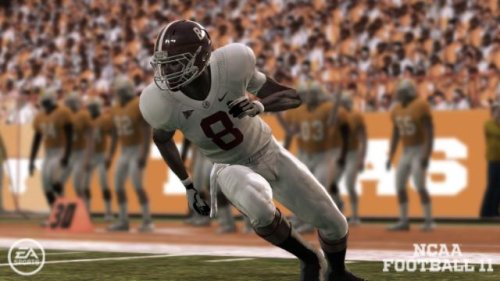 It is typically around this time that EA Sports reveals the first info regarding the upcoming NCAA Football game. For NCAA Football 11 the first features and screenshots came on February 26th. For NCAA Football 10 the first screenshot was released on February 12th.
While we wait on the first official news for NCAA Football 12 to be released a brief product description has been sent to retailers. The description focuses on the expansion of the presentational elements which come off a year where they were much improved primarily due to use of ESPN and addition of authentic team entrances.
NCAA Football 12 takes the journey of the college athlete to the next level of depth and authenticity. Experience the pride and pageantry of gameday Saturday with all new enhanced in-game presentation, traditions and school specific crowd celebrations. Make an impact on the field as your team takes down your heated rival on the road to the National Championship.
That isn't a whole lot to go on but at the very least it's apparent that presentation is getting further work in NCAA Football 12. Representing the emotion that is inherently a part of college football is critical to the success of the series. The specific phrasing of "the journey of the college athlete" could also imply "Road to Glory" mode is being improved upon. Hopefully more concrete details on what to expect from the game will begin flowing out soon.